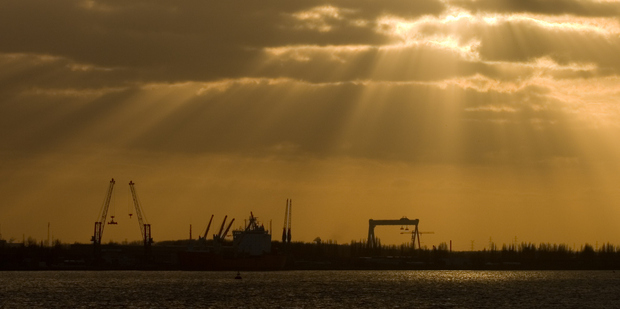 UNDERWATER SWIMS: In Antwerp, Belgium, city officials wanted a new outdoor swimming pool. So they're building a floating pool, moored at the Docklands. The whole thing is 120 metres long and can accommodate 600 people. The floating area consists of an Olympic size swimming pool, 2 event venues, several floors and a restaurant with a lounge terrace. In winter the pool can be used for ice skating. An old ferry boat connects the floating pool to the land. The floating pool can be moved to a new location if necessary. Do they empty the pool first or just float the whole thing to a new location? Bustler explains.
THE ENEMY WITHIN: The Defense Advanced Research Projects Agency in the US want to monitor the health of soldiers on the battlefield. They hope to use nanosensors to do it. They're calling for proposals for tiny sensors that could be used inside the body to provide continuous, noninvasive, and highly accurate measurement of a variety of conditions and substances.
The sensors could, for example, watch for infectious diseases or chemical or biological agents. If DARPA develop it I'm sure there are plenty who could use it. Innovation News Daily has the latest scoop.
SUGAR BANDAGE: Removing medical dressings can be painful, so how about a dressing that just dissolves into glucose your body can safely absorb? Scientists at Pennsylvania State University spun starch into fibres. The fibres can then be combined to form products like bandages or napkins. As the products degrade they form glucose that can be safely absorbed. Starch is abundant and cheaper than both cellulose and petroleum-based materials. Surely the glucose could be a bit of a worry though. Pennsylvania State University elaborates.
NANO ENLARGEMENT: Nanowires are very good at transporting electrons, but their surface area is small. The surface area is important in things like catalytic activity, perhaps in batteries or solar cells where greater surface area could mean better yield. That's why researchers at Stanford University found a way to boost the surface area with sinuous chains of metal oxide or noble metal nanoparticles. The decorations work like branches and leaves to increase the available surface, leading to dramatic improvements. You can't fault getting more of a good thing. Stanford University has more information.
SUIT UP: Olympians in training in the UK have been wearing a special suit that tells them when their movements are correct. The MotivePro suit contains sensors that send data to a nearby computer. When the athlete gets a movement right the computer sends a tiny impulse to the sensors that the athlete feels as a vibration. This immediate feedback helps the athlete improve their moves. The suit can also be used to train people like nurses how best to lift patients or heavy equipment. Instant feedback is a winning strategy. Daily Mail details.
Miraz Jordan, knowit.co.nz