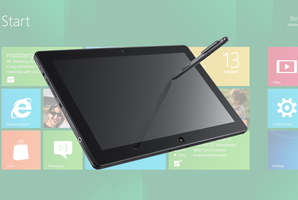 With iPads and Android devices hogging the tablet limelight, it's easy to forget that Microsoft actually pioneered the touchy-feely computing concept years ago.
Except Microsoft didn't do it like Apple and Google: first, the devices are called slates and second, you're expected to use a pen or a stylus most of the time, and not your fingers.
What's more, the slates are essentially PCs like the Samsung 700T that I test drove for a few weeks. This has a powerful 1.6GHz Intel dual-core i5 processor with integrated graphics, 4GB RAM and a 64GB solid-state drive. You also get USB and mini-HDMI ports, a 1,366 by 768 pixel touch screen; our review model came with a docking station that doubles up as charging stand and which adds a second USB port, a full-size HDMI video output and Ethernet network and earphones jacks.
With a wireless Bluetooth keyboard, the RRP for the whole kit is $2,400 including GST. That's a good chunk of change, and it buys a very nicely designed set up that is made out of high-quality materials that are put together rather well and weighs under a kilo all included.
The only disappointing hardware is the front and rear-facing two and three megapixel cameras that produce images of indifferent quality.
The long and short of it is that this is the tablet, sorry, slate for die-hard Windows users who can't part with Office and who want to be able to join network domains at work. The Samsung 700T Slate is powerful enough to handle most Windows programs, but that comes at the expense of battery life.
If however, you want a general-purpose tablet, check out Samsung's rather nice Android ones instead or wait for the new Apple iPad. You'll pay less and get a better tablet experience from them.
The reason for that is Windows 7. I'm happy to use Microsoft's current operating system on my desktop PC with high-resolution monitor, keyboard and a mouse. That's what it was designed for.
Poking around on a touch-screen with a pen sort of works with Windows 7, but it is slow and cumbersome compared to gestures on iPads and Android tablets. After a while, you find yourself instinctively searching for a mouse to drive Windows instead of pointing the pen on the screen, and the text input dialogues that pop up are irritatingly slow and awkward to use. Windows 7 also wastes lots of screen area with big, fat window borders so it can't display much information in each. This means much scrolling is required, which will drive you nuts if you use the Slate for writing and editing documents.
To use the Samsung Slate effectively with Windows 7 you need the external Bluetooth keyboard and a mouse; in which case you might as well go for a laptop that will have everything you need in one package instead of being split up in separate parts - or get an Apple Macbook.
Windows 8 to the rescue?
Now, Windows 7 isn't the end game here: the Samsung Slate is the device that Microsoft handed out to developers in large numbers so that they could test its new operating system, Windows 8.
Thanks to Apple's incredible success with its iDevices, Microsoft finds itself in the uncomfortable position of having to catch up with Cupertino; it's no exaggeration to say that Microsoft's future depends on Windows 8. The company has to get it right the first time and it has to deliver Windows 8 soon.
To find out if Microsoft got it right and if Windows 8 would make the Samsung Slate a proper tablet, I installed the Consumer Preview of the new operating system on it.
"Consumer Preview" is Microsoft's way of saying "here, take a look what we've done so far with Windows 8". It means Windows 8 isn't ready yet, and there are things missing and not working right. For instance, there was no driver for the Slate's accelerometer so the screen rotation stopped working, and a few programs that ran on Windows 7 crashed on Windows 8.
Even so, Windows 8 on the Slate makes a huge difference. With Windows 8, you don't need to use a pen because finger swiping and multi-touch work very well. Microsoft is taking a leaf out of RIM's Playbook, so you use the edges of the screen swap between applications and to navigate.
It takes a little while to get used to, but becomes second-nature after that. The elegant and clean new Metro interface with active tiles that work in a similar fashion to Windows Phone 7 helps a great deal. Metro makes the Slate seem like an entirely different beast and much nicer to use. The on-screen keyboard is easy to type with and can be split for thumbing, but there's no predictive text feature yet.
If you do want to use a pen, a separate annotation board with very good handwriting recognition (it made sense of my scribbles) is available too.
Microsoft is also hooking up Windows 8 to the cloud: you can sign on with your Live account and get access to Cloud storage, and Microsoft's App Store which didn't work in the Consumer Preview and Xbox 360 on the web; I was disappointed to see that Microsoft still uses geo-blocking for the latter, so I couldn't try it out as it is for the United States only currently.
Take another bite out of Apple, Microsoft
Windows 8 is a pleasant experience on the Slate, but underneath the new operating system lurks Windows 7. Well, an updated Windows 7 of course, but one that comes with the Explorer file browser, Control Panel, Device Manager and the usual suite of old-style utilities.
That's where the wheels came off on my updated Slate: I found it confusing on the Slate to switch between Win8-style sliding full-screen windows designed for touch and ones that act and look like they do in Windows 7 as they're designed to be driven by keyboard and mouse.
I can't help thinking that Microsoft is doing it wrong here by not going Metro in Windows 8, boots and all. Windows 8 with Metro-style apps is what you'd use on a touch device like the Slate, just as you do on a Windows Phone; Windows 7 is a fine OS by itself, but just like Mac OS X, it's better for traditional desktops and laptops.
A pure Metro-based version of Windows alongside an updated Windows 7-style one for legacy PCs would make life simpler for developers, who can target one or the other and get apps done faster. Apple did it like this and it has worked out fine for them. Microsoft should seriously consider doing the same.
Samsung 700T Slate with Windows 8
• Nicely designed, powerful PC that's ready for Windows 8.
• You'll love the stylish, clean Metro interface that's built from the ground up for touch screens
•.. and you'll be annoyed when you have to drop down to Windows 7 style apps that are best used with keyboard and mouse.