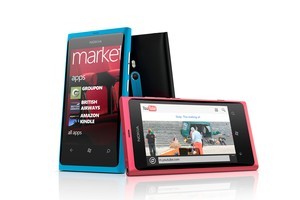 New Zealand will finally get to see the smartphones that industry giants Nokia and Microsoft are both hoping will take a bite out of Apple's market dominance with the iPhone.
On March 8, the Lumia 800 and its little sister Luma 710 will break cover in the country, available from Telecom and Vodafone for a cool $899 and $549 respectively in a variety of colours. 2degrees will sell the Lumia 800.
The Herald managed to get hold of a black Lumia 800 to review and, it's a lovely device.
The Lumia 800 looks very similar to the Nokia N9 that I tested some months ago, so much so that it's hard to tell them apart turned off and next to one another.
They're the same size, use a quality 8-megapixel camera with Carl Zeiss lens and fast 2.2 aperture (photo geeks take note) that takes very good still pictures, and decent high-definition video in 720p resolution and 30 frames per second.
Both phones use sturdy polycarbonate material for the case and a curved AMOLED touch screen with scratch-resistant Corning Gorilla Glass. The screens on both are very legible outdoors and the digitiser sensors that track your finger touches are accurate and responsive.
There are some physical differences however. The Lumia 800 has a slightly smaller 3.7" 480 by 800 screen, giving up 0.2" and 54 pixels at the bottom to make space for three Windows Phone touch buttons embedded in the glass - Back, Home and Search.
The Lumia 800 also gets a special camera button on the side. This starts the camera in about five seconds even if the Lumia is locked, so you won't miss that picture opportunity when it comes along. I did find myself accidentally often pressing the camera shutter button to start up the phone instead of the power one however, and missed the handy double finger tap on the N9's screen to wake up the phone.
Inside the body, the Lumia 800 has a slightly quicker 1.4GHz single-core processor - the N9 makes do with an older 1GHz variant - and 512MB RAM instead of 1GB. Other than that, the long features list is almost identical, with 16GB for storage, accelerometers to sense movement, a compass, FM stereo radio, GPS for location, Bluetooth and much more.
You don't get the Near Field Communications or NFC feature that the N9 has with the Lumia 800, but it has very little real-life use at the moment so it's not a big omission.
Unfortunately, you will need to use a tiny Micro SIM with the Lumia 800, just as you do with the N9 and Apple devices. This can make it difficult to share the SIM with your other devices, if they require a normal size one.
Switch on the Lumia 800, and Windows Phone 7 with its Metro interface that has animated tiles comes alive as opposed to the open-source based MeeGo one on the N9. Having used the new Windows Phone 7 and 7.5 operating systems in the past, it was familiar to me straight away.
However, Windows Phone 7 works quite differently to its competitors, Apple iOS and Android and will take some time to get used to for migrants from other smartphones.
That said, Microsoft has worked hard on making Windows Phone 7 easy to use and once you'll figure out how to scroll the screens sideways and up and down, my bet is that most people will feel at home quickly with the Lumia 800.
My biggest gripe with Metro is that the swipe to move the lock screen upwards could take several tries before the Lumia 800 would let you in. I also noticed that it's impossible to see the Windows keys at the bottom of the screen in the dark, as they're not backlit. Other than that, driving the phone with one or more fingers is effortless and natural.
Using the Lumia 800 as a phone works rather nicely. The dialler and contacts list is easy to handle and you can import Google Gmail contacts as well as Outlook ones. The threaded SMS application makes it easy to keep a text conversation going and to add pictures for MMS.
You can't send video MMS messages however. There's also no equivalent to Apple's iMessage that sends messages via the Internet to bypass telco SMS charges. Nor is there a Facetime-like video chat feature on the Lumia 800 as it and other Windows Phones lack front-facing cameras.
Call quality over Vodafone's network was pretty good and the Lumia 800 supports the frequency bands that matter in New Zealand and the region - 3G on 850, 900, 1900 and 2100 MHz means the phone works on Telecom XT as well as Vodafone in town and in the country.
As a smartphone, the Lumia 800 does most things like web browsing and email well. If you're an Apple Mac user who's been reading this review until here, thank you, but you can stop now. The Lumia 800 isn't for you as it requires Microsoft Zune on Windows for synching music and transcoding videos.
Windows Phone doesn't lock out other providers such as Google - the bundled Gmail client is OK - but the integration with Microsoft cloud services such as Skydrive for storage, Office 356 for productivity and of course, Hotmail, is where it shines.
Business users will like the bundled Microsoft Office apps such as Word and Excel for quick document work while on the hoof; there's also a PowerPoint app, but you can only view files with it and not edit them.
Providing Xbox Live games with Windows Phone was a clever move by Microsoft which has plenty of good titles already. Microsoft does however insist on not selling some games in certain areas, and I couldn't for instance install the trial versions of Angry Birds and Fragger with my Windows Live ID.
This brings me to the all-important Microsoft Marketplace, or the service where you buy apps. This is growing by some three thousand apps a week Microsoft says, and should have 60,000 available soon. Even so, Marketplace is much smaller than Android Market and Apple's App Store, both of which have over half a million apps in them.
You're not going to find all the social media or even camera apps (Nokia has some nice ones for its Symbian phones for instance) that you're used to for other platforms in the Marketplace.
Nokia was allowed to dip its oar into the Windows Phone software waters too. You get Nokia's very good Drive and Maps applications with the Lumia 800 but I did wonder why the two haven't been combined into one program; also, Microsoft's Bing Maps could've been an optional install with the Nokia one already installed.
Bing is the default search engine and it's OK; there is also a Microsoft TellMe voice recognition feature for searching, but it really isn't Siri.
I didn't have the Lumia 800 long enough to give a definite verdict on battery life, but it does seem able to go through at least a day of use. This included much use on Wi-Fi, 3G, calls and SMS so I expect the Lumia 800 shouldn't need to sip electricity from the mini-USB port too often.
Will the Lumia 800 (and Lumias 710 and 900 in the US/Canada) save "Microkia"? Microsoft boss Paul Muckleston said at the Lumia range launch that Windows Phone devices haven't sold in the volumes expected, and this is where Nokia comes in with its device manufacturing and marketing expertise.
The partnership may work provided phone prices are kept low and both Nokia and Microsoft gets a sense of urgency going. As it is, both take much too long to release updated devices and operating system versions whereas Apple and Google make sure there's something new and exciting on a regular basis that shifts the bar higher for competitors.
There's absolutely nothing wrong with the Lumia 800: try it, you'll like it. However, the world hasn't stood still and Nokia and Microsoft face stiff competition. What Nokia and Microsoft needed to was to release hardware with fast, dual-core processors and something unique along the lines of Apple's Siri to catch up with the competition. Multi-tasking is one such thing, and Microsoft of all companies should be able to get that into Windows Phone.
As it is, Nokia Lumia 800 is just a very nice phone, like the N9. It isn't a world-beater in any area however, and that is what the Lumia 800 needed to be to stand out in a crowded market.
Nokia Lumia 800
$899 (Telecom, Vodafone)
2degrees pricing to be confirmed
Pros
Beautiful hardware
Metro interface easy to use and a real looker
Good price
Cons
Missing features that the competition has
Microsoft Marketplace has considerably less apps than other stores