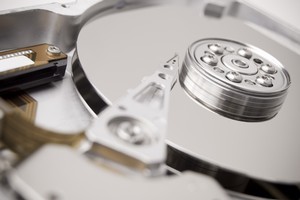 COLD STORAGE: Cramming bits onto a hard drive is one way to store computer data. IBM hope there may be another way. Conventional storage has the spin of atoms aligned and that causes problems. This new technique used counter-aligned spin. Researchers were able to store a magnetic-memory bit in just 12 iron atoms. While this would allow much denser data storage there is a problem. Researchers had to assemble each bit under a scanning tunnelling microscope and the data was only held for a few hours. Oh, and it was at almost zero degrees Kelvin. It's all in the way you spin the data.
More at Technology Review.
HE'S ALIVE, JIM: Would you like to win US$10 million? All you have to do is create a working medical device like the tricorder used on Star Trek. The Qualcomm Tricorder X Prize wants competitors to come up with a portable, wireless device that fits in the palm of your hand and accurately monitors and diagnoses 15 health conditions. The device must also be easy to use, to have a shot at winning. Go to Qualcomm
Tricorder X Prize for details.
HIGH HOPES: The Baluarte Bridge was recently completed in Mexico and is now the tallest suspension bridge in the world. It is 1,124 metres long, supported by 152 steel suspenders, with a 520 m central span and 4 lanes suspended at a height of over 400 metres. The Eiffel Tower would easily fit underneath. The bridge cuts 6 hours travel time off travel between Durango and Mazatlán and should help open up travel in
Mexico. That's one way to get high in Mexico. More details hereand video here.
INVISIBLE STYLES: There are cameras all over the place, and facial recognition software has become alarmingly accurate. But what say you don't want to be easily recognised by security software? Hoods and masks may not be allowed in many places, but some clever make up and hair styles could do the job. Computer Vision's Dazzle technique takes its name from Word War 1 camouflage that appeared to break up the shapes of warships. Using patterned makeup and carefully cut hair could fool facial recognition software. Which profilers could see as a reason in itself to suspect a wearer.
CVDazzle.com has more.
SHARP-EYED BIRD: The US Army has some new drones that can take off vertically, hover and reach an altitude of up to 6km. The A160 Hummingbird carries a 1.8 gigapixel colour camera that can provide real-time video streams at 10 frames a second. Operators can use the camera to track up to six objects on the ground, even if they're moving in different directions. Those are some scary capabilities. BBC has details.
- Miraz jordan knowit.co.nz