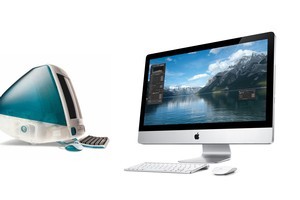 Do you know what an iMac is? You should do - they're on enough TV programs and in films. Apple got itself back in the biz a few years ago when Steve Jobs used the first all-in-one 'iMac', then with a CRT and a rounded, semi-transparent plastic case, to both relaunch the company and to simplify Apple's out-of-control product lines.
That shook things up, and the next models carried on the exclamations of joy over design breakthroughs, aesthetics and the rest. You know how it goes.
But then, once the model hit the stand-up-in-front-of-you flat-screen panel styling, iMac design reached a plateau. Apart from migrating from Polycarbonate to brushed aluminium, with a tweak to screen size in relation to the frame, the Apple iMac hasn't changed much in a long time.
But inside it's a different story. Lately, the top configurations pack unseemly power into those award-winning frames. While it's a computer that's only about 8cm deep, not counting the pedestal, from back to front, it packs an enclosed 21.5-inch or 27-inch calibrated screen, driven by AMD graphics and with a choice between quad core Intel i5 and i7 CPUs. That adds up to a lot of performance for your moolah.
And before you commenters all start a PC vs Mac wizzing contest (to uncoin a phrase), you might be able to get more powerful chips/processors/graphics chips yadda yadda in PCs for less money, but that's missing the point.
Graphics professionals like good looks, strangely enough, and they like wide-screen, and these iMacs all handle Logic, Final Cut, Pro Tools, Premiere ... you name it. And they handle all that with aplomb.
Other computer companies have tried to make effective all-in-ones - like HP and Dell - but they either look like poor man's iMacs or, truthfully, they just look bad.
Well, that's what I think - you can form your own opinion. But looking at these things make me shudder.
With the iMac, Apple once again catered to a market that didn't really exist, effectively creating it. You know, like it did with the iPhone and iPad.
Niche created, Apple reaped the benefit. The iMac has accounted for nearly a third of all-in-one desktop computers sold (14.5 million). For years before that, Apple's percentage was much higher, since for a while it had the all-in-one market to itself.
More recently, the strength of iMac demand still put Apple ahead of Lenovo and HP, but both firms are expecting to unveil two new desktop computers at the Consumer Electronics Show.
iMacs may still have the advantage of superior industrial design, but it's not like competitors have been sitting on their hands. Well, they have, but maybe not for much longer. According to the Asian industry newspaper DigiTimes, HP and Lenovo have delivered above-the-standard industrial design in their products, while offering better hardware specifications, price and a variety of choices.
I don't see it, myself, but you can go hunting. Spec for spec, the iMac still looks pretty strong to me - and it still looks the best.
While Apple is expected to spruce up the iMac this year with new Intel 22-nanometer Ivy Bridge CPUs, improved graphics and (I hope) better and cheaper SSD options, consumer choice across platforms will expand.
That shouldn't actually be too troubling for Apple, so far. What might be more of a conundrum is that the iMac has overshadowed Apple's own Mac Pro, Apple's easily expandable tower powerhouse. You have to add a monitor to it - all up, the most basic package with an Apple monitor will set you back NZ$6048 ($4399 for the tower, $1649 for Apple's 27-inch display).
Of course, you can add a much cheaper monitor but then you'll have to calibrate it, for professional work. Apple reputedly used to use, let's say, not the top quality of displays, but made up for it by factory calibrating them. I don't know whether this is still the case, if it ever was, but that calibration (which is still the case) adds a certain attractiveness to the pros.
But for all those thousands of dollars you might blow on a verging-on-obsolete Mac Pro, you can get a 27-inch iMac for NZ$2799, with a 2.7GHz Quad-Core Intel Core i5, 4GB RAM, 1TB hard drive and AMD Radeon HD 6770M with 512MB VRAM, or for $$3298 a 27-inch with a 3.1GHz Quad-Core Intel Core i5, 4GB RAM, 1TB hard drive and an AMD Radeon HD 6970M with 1GB VRAM. Even when you start adding in the build-to-orders (more RAM, better i7 CPUs, bigger drives, SSD options etc), you can still emerge shy of the price for the lowest-spec Mac Pro plus monitor.
That's because Apple's cheapest Mac Pro packs a 2.8GHz Quad-Core Intel Xeon 'Nehalem' CPU with a paltry 3GB of RAM. You can build-to-order the specs up into the stratosphere, or later on just pop the side off and slide in more RAM, hard drives, video cards etc, to your heart's content, all pretty much plug-and-play, but you'll pay big-time upon big-time for that privilege ... and current Mac Pros don't even have Thunderbolt ports yet.
And while iMacs aren't exactly expandable, being in sealed cases apart from a RAM compartment, Thunderbolt looks set to give the iMacs another massive advantage - the port tech is so fast, it will become feasible to extend your iMac with all sorts of amazing devices ... once they become available.
Thunderbolt is finally making it into PCs this year (Apple pioneered putting the tech into mainstream devices, but we expect that), third-party device availability should start to increase dramatically later in the year, although what ports PCs will use for Thunderbolt might affect device availability, since Apple uses an iteration of Mini DisplayPort on Macs to deliver the protocol.
That was all a bit longwinded, but my point is, what's Apple going to do about the Mac Pro?
A new Mac Pro is long overdue. Meanwhile, adding an SSD into an iMac gives you one screamer of a cute, space-saving machine.
Apple would have to produce something simply amazing for a good price to revive the fortunes of the Mac Pro, and all without putting the price even further out of reach.
The obvious answer is simply to delete the Mac Pro altogether, and indeed that's what some pundits think will happen.
I guess we'll see, but I reckon the long delays in a Mac Pro refresh reflects the discussions raging inside Apple.
- Mark Webster mac-nz.com