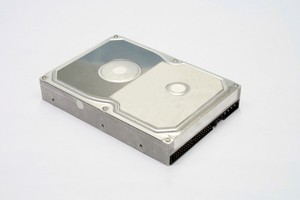 Are you worried abut the floods in Thailand? You should be.
Apart from the human cost (hundreds of lives lost, and major disruption to people, transport and property) there's a very real potential data cost looming that may affect every computer user.
The disaster has been affecting Thailand's production, including factories that produce parts for the Mac computer line, some of which had to shut down completely.
Apple has been examining what impact that may have on its Mac production timeline.
But there's a more general problem looming - hard drives. And this affects everyone.
We've been enjoying plummeting hard drive - hence, storage - prices for years, but supply is becoming constrained.
That's because Thailand makes about a quarter of the world's spindle-based hard-disk drives.
John Coyne, President and CEO of Western Digital, has stated that the problem is complex, and a dynamic challenge that will require extensive rebuilding.
Coyne specifically notes "multiple quarters" affected, indicating that users may not see a return to the pricing we were used to until at least mid-2012.
In the quarter to July 1, Western Digital shipped around 54 million hard drives from its facilities in Thailand and Malaysia, with approximately 60 per cent coming from its Thailand sites.
Another big HD manufacturer, Seagate, also has factories in Thailand affected by the floods.
A spindle-based hard drive is like a little, old-school record player, sealed into a little shock-proof (hopefully) metal box, except it spins much faster than a record player, at 5400 or 7200 rpm instead of 45 or 33rpm.
As with a record player, there's a little thing like a tone-arm, except this both 'reads' (just as a record player 'plays' the track) and writes data - writing is what happens when you 'save' or copy a file to your drive.
Apple has been steadily shifting to SSDs - a Solid State Drive is a chip rather than a little record-player type spinning platter device, and as such it doesn't need as much power, cooling, protection or space, all of which lead to design possibilities like the super-slim MacBook Air.
iPod touches, iPads and iPhones contain variations of chip-based storage for similar reasons - size, portability, durability, battery life, cooling and space.
But SSDs still cost a bomb. Apple putting more into more models may lead to price reductions (supply and demand and all that). Currently it adds NZ$830 to change out your iMac's 1TB hard drive with a smaller 256GB SSD - what you lose in space (down to a quarter), you gain in performance.
But that's quite a trade-off.
So whether the Thai floods will lead to a faster uptake in the inevitability of SSDs across Apple's other laptops is anyone's guess, although there have been rumours of late that Apple is working to 'refresh' various Macs, and even rumours that the venerable Mac Pro tower may be discontinued, since Thunderbolt means that considerable expansion can be enabled soon just by plugging things in externally.
Considering that the latest iMacs and even MacBook Pros have become so powerful, surpassing the entry Mac Pro in benchmarks, why bother with a big clunky tower you have to open up and plug things into when you can whack something into the daisy-chainable Thunderbolt port? (Please do note these are rumours, though.)
And besides, all the other Macs except the mini already have monitors built in - with the Mac Pro, you have to buy one separately, adding considerably to the initial outlay.
The other factor is the moving of storage out of your machine entirely to the 'cloud' - which is actually a huge array of traditional hard drives somewhere that you access via the internet.
Apple's free service, iCloud, only gives you 5GB of space accessible this way - that's not much. Your Mac probably has at least a hundred Gigabytes' capacity.
Backing up any more than 5GB over the 'net to the US (or wherever our closest Apple server farm is located - Australia?) would be painfully slow, and besides, there's your data cap, which technically (but not in actuality, thanks to our ISPs) applies only to traffic that needs to go outside of New Zealand.
The other problem is that we're connected to the rest of the world by one - just one - cable under the Tasman. It's that single connection which gives us the caps in the first place - traffic inside New Zealand only does not need data caps at all.
But one decent earthquake or - who knows - a very angry giant octopus with a passionate dislike for unsightly cabling, and we're no longer connected. Your data's there, but you're here, and there's a sea or two and several thousand kilometres between you and it. How secure does that make you feel?
Besides all that, the 5GB you have with Apple (if you updated your Mac and iOS and you have an Apple ID) is free. As Apple's data centres are full of old-fashioned hard drives, if their costs skyrocket due to a hard drive shortage, how long do you think that sharp pricing will last? Apple has huge amounts of cash, but it didn't get all that loot from being beneficent with its bounty.
With rumours percolating of a new slimmed-down MacBook Pro, plus rumours of a '15-inch MacBook Air' (which I reckon are one and the same machine), it really does look like Apple is moving towards SSD storage-based Macs, and these floods just add some impetus.
Talking about prices, check the online Apple Store on Friday 25th November for 24 hours of price reductions up to around eight per cent.
It's an annual pre-Christmas event called Black Friday in the US, and for New Zealand buyers it will affect many products right up to Macs, although iPhones almost certainly won't be discounted. But it's online only. Don't expect reductions in the NZ Apple Resellers.