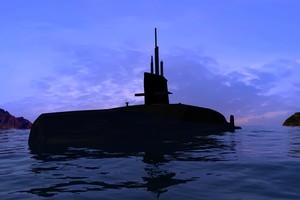 LASER ENCRYPTION: Communicating with military submarines is slow as low-frequency radio waves pass through water. Submarines have to surface to use faster comms. There's also a problem in keeping signals secure, so single-use keys are required. But there's a danger in having too many keys on board in case a sub is captured. Quantum key distribution could help solve these problems. Submarines could transmit photons of laser light to satellites from 100 metres down to exchange a key using the quantum properties of photons to generate a key. Subsequent laser pulses would then be secure. It's all just theory for now though. Who knew subs had so much trouble communicating? More information at New Scientist.
CRIME DRONE: One law enforcement agency in Houston, USA, has bought itself a Shadowhawk MK-III UAV. The helicopter carries a powerful camera and infrared heat-seeking device and is controlled from the ground. They plan to use it for investigating drug shipments and assessing scenes with active shooters.
An onboard GPS system is designed to keep the UAV on target. A well-placed beam from a handheld laser could surely blind the camera, but I guess criminals won't think of that. Details at Click2Houston.com.
SEE THROUGH GLASS: Glare: it's a constant problem where glass is involved as spectacle wearers can attest. Nippon Electric Glass has created a substrate that reduces reflections to almost nothing. With normal glass around 8% of light is reflected. With the 30 layer anti-reflection film on each of the front and back sides of the glass substrate only about 0.5% of the light is reflected. Next it needs to be self-cleaning. More details here.
AVOID THE CROWDS: The Yamanote train line in Tokyo may be crowded and hot, but a new Wi-Fi service for smartphone users should help. Servers on the train record data such as temperature and crowding rates and make it available via Wi-Fi. Smartphone users can also access information on train services and delays. The crowding rates are determined by using existing weight sensors that control the brakes when a train stops. The service is being tested on one train this year. A closed Wi-Fi network for train information sounds like something all trains should have. More at Diginfo News and video here.
- Miraz Jordan knowit.co.nz