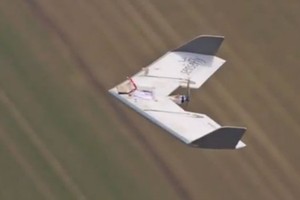 FLOCK OF BOTS: At the Swiss Laboratory of Intelligence Systems researchers have found a way to make up to 10 flying autonomous vehicles behave as a swarm or flock. The small fixed-wing machines fly together, migrate and avoid crashing. Individual robots respond to their close neighbours without considering the movements of the group, yet the whole group move as one. The robots communicate via wifi which the researchers tune for shorter or longer range to help determine movement patterns. So is it swarm like killer bees or flock like doves? Perhaps it depends on the overall intent of the robots. Wired has more and there's video here.
COLD DATA: Data centres need heaps of power to run the servers and to keep them cool. British company Colt has figured out how to create a carbon-neutral data centre. 37 glass and steel climate-controlled boxes will be prefabricated in the UK, then shipped to Iceland where they'll be assembled inside a shell building powered by geothermal and hydroelectric power and cooled by the naturally frigid Icelandic air.
The boxes contain power points, cables, heating, ventilation, security systems, monitoring systems, lighting and flooring — all ready for the actual servers to be installed. High-speed network cables will transmit data to Europe and the US. Those high-speed cables are crucial. More details The Guardian.
CHARGED STOPS: The AutoTram is a concept public transport vehicle from the Fraunhofer Institute in Germany. Part bus, part tram and part train it doesn't need overhead wires or rails, but it's fully electric. The idea is that it carries only enough charge to reach the next stop. At each stop it spends around 30 seconds recharging with a burst of up to 700 volts while passengers get on and off. Research suggests the AutoTram would be a good deal cheaper than light rail, but more expensive than diesel. It's a clever idea to run on short duration charges. Fast Company.
EYES FORWARD: The Owl 360 puts a CMOS video camera on the back of your bicycle. On the handlebars you get a 3.5 inch LCD screen. Now you don't need to turn your head to see traffic coming up behind you. The LCD screen is attached via a quick release hot shoe. The camera and screen are rechargeable via a 3.7-volt lithium-polymer battery in the monitor. 10 red LEDs around the camera flash when light levels are low. That screen better have great visibility in bright daylight. Gizmag has more details.
CLEAN AIR SPONGE: We're all worried about excessive CO2 in the atmosphere, but it's not that easy to take it out. US researchers have found a new sponge-like material that may help capture and store gaseous carbon dioxide. Porous crystals, known as metal-organic frameworks, are made mainly from gamma-cyclodextrin, a sugar molecule derived from cornstarch. Metals hold the sugar molecules in place. The sugars fix carbon dioxide which can be recovered later. An indicator molecule causes the normally yellow crystals to turn red when they reach full capacity. The crystals are low cost, renewable and don't rely on toxic heavy metals. It's how we'd apply the sponges' that's the puzzle. Couldn't we just plant more plants and reduce our output? ScienceDebate.com.
- Miraz Jordan mac-nz.com