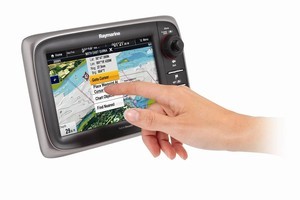 Raymarine's latest MFD makes it easy to link to an iPad or iPhone.
Although marine electronics have a habit of becoming more sophisticated while at the same time getting easier to use, Raymarine's new e7 HybridTouch seems likely to literally rewrite the book.
The e7, which seems certain to be one of the drawcards at the Auckland International Boat Show this month, is, at first glance, simply another stylish marine MFD (multi-function device). In other words, it is a display screen and a sort of hub into which one can plug such modern marine essentials as a depth sounder, GPS chart-plotter, radar and various types of cameras.
Nothing too unusual there - most major electronics companies offer something similar.
However, where the new e7 really does things differently is in its connectivity. Recognising the fast-growing popularity of smartphones and tablets, Raymarine has become the first marine electronics company to add Wi-Fi streaming and Bluetooth capabilities to a marine MFD.
These allow the e7 to seamlessly connect with an Apple iPhone, iPad or even an iPod Touch (and, I'm told, soon with Android-powered smartphones and tablets too).
This means a skipper can use any of these devices as a remote repeater - or as the sound hub for the boat, with all functions (playing and pausing tracks, perusing the playlist, volume control) able to be controlled remotely from the e7 display.
Says Cameron Burch, Raymarine product manager at New Zealand distributor Lusty and Blundell: "It's an incredible advance in marine electronics technology."
Burch points out that on a relatively small vessel (such as a trailer powerboat or yacht), an iPad or iPhone can be left safe and dry in the cabin while all its functions are controlled at the helm through the e7.
"Being able to use an iPad or iPhone as a repeater has huge advantages too," he says. "It means one can view charts, sonar, radar and thermal night vision from anywhere on board, right in the palm of your hand."
As Burch points out, this means that instead of installing a repeater screen in the master cabin, skippers can now keep an eye on things wherever they are on board.
Other passengers can also connect their devices and, for example, keep an eye on the ship's progress without having to go on deck.
Skippers can also download special apps that allow them to plan their trips (including adding in waypoints) at home or in the club before heading out. Once on board, they simply connect to the e7 and transfer the data.
Like some of Raymarine's earlier models, the e7 also features the company's unique HybridTouch technology. This allows skippers to switch between applications or open new windows by either simply touching the screen or, if it is too rough to do that properly, by using a rotary control and Raymarine's new "buttonless" buttons.
The e7 is also the first piece of new Raymarine technology to feature the company's just-released LightHouse User Interface.
"LightHouse has been specially designed to complement the way boaties think and act," says Burch. "It makes navigating incredibly easy, intuitively placing frequently used navigation functions right where the skipper expects them to be.
"What's more, with LightHouse everyone quickly becomes an expert, and even creating your own custom navigation pages is super-simple."
Burch says that, despite its compact size, the new e7 is incredibly powerful, running three processors: a dual-core main processor and a third dedicated graphics processor.
"These allow the e7 to deliver stunning 3D graphics, brilliant video and chart redraws that are literally instantaneous. It also makes the e7 the perfect medium on which to view all of Raymarine's latest technology: HD digital radar and HD digital sonar, and crystal-clear video feeds from thermal imaging, docking and underwater cameras."
For even more versatility, those buying the e7 will have the option of adding another rather clever bit of kit: Raymarine's new RCU-3 remote. This is a steering wheel- or lanyard-mounted remote control that allows skippers to access frequently used functions on the e7 while under way.
This means one can change range scales, control music, switch between apps or mark a waypoint without taking one's hands from the wheel (or, if one is at the transom fishing, without having to go forward to the dash).
Both the e7 and the RCU-3 remote will be on display for the first time in New Zealand in the new Viaduct Events Centre at the Auckland International Boat Show on September 15-18.