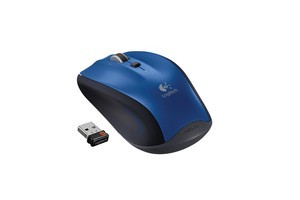 With a growing number of households connecting home theatre PCs to AV set-ups, the media centre PC market has begun to gain some serious traction.
The rise and rise of PCs integrated into AV gear hasn't escaped the attention of Logitech, who've crafted the "Couch Mouse", which has been tweaked to work on a huge range of surfaces such as sofas, cushions and carpets.
As an aspiring couch spud, reviewing a computer rodent designed for on sofa use was far too good an opportunity to pass up. For a start, I was pretty keen to see if the M515 was able to drive Windows Media menus whilst I was reclined in comfort with a stack of movies and some shockingly unhealthy snacks. In short, it was going to be a tough assignment, but someone had to do it.
Set up
Getting set up for what must be one of the most chilled gadget review sessions ever conducted only took a few brief moments. This was in part due to one of the niftiest features of the M515 (and indeed almost any recently launched Logitech mice or keyboard) - the "unifying receiver," a tiny USB dongle that's only marginally larger than the USB socket it slips into.
The secret sauce that makes the unifying dongle so nifty is the fact that it'll wirelessly connect most new Logitech wireless mice and keyboards, minimising USB port wastage, as well as reducing clutter in the process.
After inserting the unifying receiver into a spare USB port and plunking the bundled batteries into the M515 and powering it up (via a switch located on its belly underside), the couch mouse and I were good to go.
In use
The M515 performed as advertised, in that I was able to navigate Windows Media Centre menus with ease using the M515 across a huge variety of surfaces, many of which left conventional mice floundering. From sofa cushions through to my scalp, the M515 didn't miss a beat.
Thanks to a slinky "easy glide" surface on the underside, using the M515 on fabrics and other mouse unfriendly surfaces felt a little less weird.
With the exception of my cat (who wouldn't sit still enough), the M515 passed nearly every computer mouse torture test I threw at it, feeling surprisingly good in the process.
Extreme mousing aside, the M515 also packed all of the computer rodent features we've come to expect from Logitech. The hyper-fast scrolling mode originally launched with the MX mouse range was also present, making short work of long winded web pages and emails. Alternatively, a button just behind the scroll wheel was able to be pressed down, which saw the wheel performing as a conventional click-scroll wheel.
Like a chapter from Goldilocks and the Three Bears, the M515 felt 'just right' in my hand. It wasn't too small, nor was it too big, and it felt fine for left-paw users.
Interestingly, where most mice nowadays have integrated rechargeable batteries, the M515 comes bundled with two AA batteries. While surprising, this isn't a big deal as its Hand Detection technology ensures that it'll only power up when touched (Logitech also claims two years of battery life).
Verdict
After much testing (yeah gadget reviewing can be hell), I've decided that the M515 represents a small but significant victory for fellow couch dwellers.
Driving a home theatre PC from the comfort of one's sofa had long been a monumental challenge for couch spud kind, however ,when coupled with a home theatre PC, the M515 makes on-sofa mousing an extremely do-able proposition.
Not only did the M515 feel great with extended use, but it also performed flawlessly across a range of decidedly mouse unfriendly surfaces (except the moggy), making it pretty hard to fault.
Logitech M515
$79.70
Colours: Blue, red or grey
Buttons: L+R, four-way wcroll wheel, scroll adjustment Connectivity: 2.4Ghz Wireless via Logitech USB unifying receiver
Batteries: 2x AA
Run time: Claimed 2yr max
OS Support: Windows Vista/ XP / 7; Mac OS X 10.5 or later