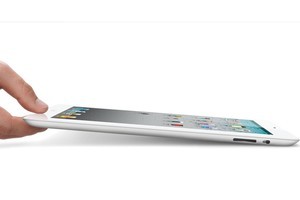 So, I got an iPad 2. Not for keeps; for two weeks. Apple doesn't stint on these loaners, though - this thing was well specced, a 64GB Wi-Fi and 3G model complete with an orange Smart Cover.
In the NZ Apple Store, this model would set you back a rather impressive $1289, plus $69 for the Smart Cover.
I'm still a little conflicted about iPads. There was a lot of talk out there over a year ago that Apple 'needed to', or should, produce a Netbook. Apple didn't seem interested at all, decrying their little, uncomfortable keyboards and limited power.
Then Apple released the iPad, with the seeming distinction that it wasn't a netbook, but inhabited a 'new device category', and that if you wanted more power, Apple produced perfectly good laptops, thank you very much.
Nevertheless, people continue to buy iPads to use as netbooks, and that's where I have a problem.
They're really not netbooks. If you try and use an iPad as a netbook, you will have some success, but because it's not a netbook, there are limitations.
Sure, they can be overcome with workarounds, but seriously trying to write anything of length is not much fun, although I'm sure some do.
If you don't try and use an iPad as a netbook, you will have an easier life and a lot more fun, in my opinion.
We have an iPad in the family; it's the original version, without 3G but with the biggest capacity. It's absolutely great - I have my entire iTunes collection on it and it's a brilliant terminal and controller for streaming that music wirelessly through our stereo. Anyone can use it.
I have a couple of brilliant apps that my nephews and nieces love, especially Talking Tom Cat.
I mean, I'm a bit too sophisticated for this - I can only hear 'bum bum' in a funny voice about ten times before I get sick of it, but these under fives can do it all day and besides, touch the right place and the animated cat on the iPad's screen farts ... We're really living now, kids.
But don't worry if that sounds utterly infantile and facile to you - you can also get Talking Baby Hippo, Talking Roby, Talking Do Do Bird, Talking Dinosaur and more. LOL.
Put this by the TV when the news is on to really annoy your housemates...
Anyway, besides that I don't bother with games. But the family regularly uses the excellent Orsome weather and TV guide apps, The NZ Herald (of course), Stuff, National Geographic, Wired and some other magazines and newspapers, and the rather horribly named but extremely effective piRAWnha, which is a RAW image editor that works well with the Apple iPad Camera Connection Kit.
I went into Übertec, an Apple Reseller in Auckland's Parnell, to ask when they would next get some iPads for sale. Like other resellers, they didn't really know, but hoped in a week or two. (The wait on the Apple Store has come back from 4-5 weeks to 2-3).
I asked what people were buying to go with iPads - the Alupen is popular. "At first, only designers and architects were buying them, but they're comfortable to hold and they look cool and they're easy to use and they're only $35, so now lots of different people are."
An Alupen (it's by Just Mobile) is chunky like a big crayon, and comes with a little slip case. Apart from the silvery aluminium version, you can get it in bright red, blue, green, yellow or black.
It has a soft rubber nib for smooth control and is actually compatible with all capacitive touchscreens, not just iPads, iPhones and iPod touch.
There's nothing to install - use it just like a finger, except that you hold it like a pen so it's much easier to create fine art.
You can swipe through your app screens and even type with it - this would avoid grubby screens if you're worried about winter colds and snot contamination, anyway!
Cases were a big seller for iPad 1, says Übertec, but the iPad is so new, Apple has pretty much cornered the market so far with the Smart Cover, the magnetic, neatly folding case that comes in several colours.
So until some new cases arrive from other manufacturers, the Smart Cover is pretty much the limit at the moment.
But stands are still popular - the heavy gauge steel TwelveSouth Compass iPad Stand, for example. It's strong and stable yet folds for travel to not much more than the size of a Picnic bar. Opened up, it can be used as an easel in portrait orientation, or flip open a secondary leg to hold an iPad at the correct angle for typing. These cost $59.
So, the iPad 2. I guess it's time to get it out of its box. We don't unpack Apple products, we 'unbox' them. I kid you not, there are dozens of reverential Apple 'unboxing' videos on YouTube. And people say I'm a fanboy ... ai, yi yi. Anyway, I snapped some pictures of that with my iPhone. OK, I have to hand it to Apple - even the packaging for the Smart Cover itself is very slick.
So, it's slimmer and more powerful, with a dual-processor CPU that makes it faster. The other big difference is, it has a camera.
I was sceptical of this but to use, it's really cool. It shoots movies and video, like the iPhone 4 and latest iPod touch. It's surreal walking around with a massive LCD monitor (by comparison to a typical digital camera) with the world animating on its screen. Like carrying a TV around.
There have been critics of the camera quality, but it's not too bad, at least if you treat it as a handy extra to an exiting, albeit slimmer and lighter, device. I mean, if you want a good digital camera, there are hundreds to choose from. This is an iPad. That said, the iPhone's camera is distinctly superior, shooting a sharper, 2592x1936 pixel image compared to the iPad's 960x720 pixels. But hey, your iPad can take pictures! It shoots videos. You can use it for FaceTime video conferencing (more on that in a later blog, too). On a positive note for Apple, it's a really easily upgradeable feature for iPad 3.
I synced it with my own iTunes and updated it to iOS 4.3.1. I also ran a Mac OS update on my Mac (in the Apple menu: Software Update) as this snared the GarageBand update that lets you use GarageBand projects started on the iPad 2 on Macs (GarageBand 6.0.2 is a 42.2MB download within Software Update).
I'll tell you more about that another time, as it requires a bit more exploration, and I will time some common apps on both iPads.
So, I will tell you more soon.
- Mark Webster mac-nz.com