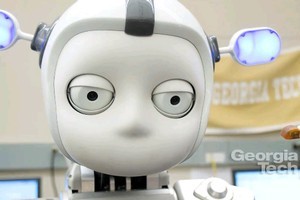 SIMON KNOWS: Georgia Tech in the USA has a robot called Simon. Simon can tell, about 80% of the time whether you're paying attention to him or not. This ability is something we humans use all the time while interacting with others. Teaching robots how to know when they have a person's attention could be important if they engage with human beings. Simon says "Look at me". More at Georgia Tech and video on YouTube.
TINY'S HUGE: Engineers at the University of Illinois, USA, found that using carbon nanotubes rather than metal wires in memory reduced power draw to just 1%. They created memory bits by placing phase-change materials in the gap in carbon nanotubes. Passing current through the the bit switched it on or off. The tiny size of the nanotube meant a hugely reduced power draw. What can't you do with carbon nanotubes? More at the University of Illinois.
IT'S NOT SALT IN THE WOUND: Surgeons sometimes like to take a look around inside your body before they cut you open. A new disposable camera from the Fraunhofer Institute for Reliability and Microintegration in Germany is the size of a coarse grain of salt. The 1 mm cubed microcamera fits on the tip of an endoscope. It has a resolution of 62,500 pixels and transmits data through the endoscope via an electrical cable. Because the camera's disposable it doesn't need careful and expensive cleaning after use, reducing costs. It's hard to believe a camera could be that small. More at IZM.
GLASS BEAD GAME: A team at the University of California taped a tiny glass bead to a smartphone camera and added specialised software to create a functioning microscope able to image tiny blood cells. The technique magnifies 350x, but the plane of focus is very thin. That's where the software comes in, stitching the sharp parts together to make a single clear image. The US$20 microscope could prove its worth in rural or remote areas by capturing images and sending them to a pathologist in the city for analysis. Putting even more smarts in smartphones. More at Wired.
ANTI-GRAV ARM: Remember those desk lamps where the arm balances the light in the right position? The x-Ar arm from Equipois does the same kind of thing. It's an exoskeletal arm support that makes objects seem almost weightless. The support attaches to your wrist and bears the weight for you, while still allowing you full range of motion. Will it help me with my shopping bags? More at EquiPoisInc.
- Miraz Jordan knowit.co.nz