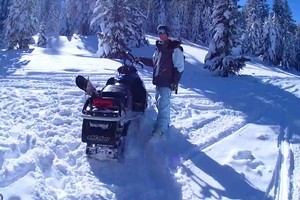 DASHING THROUGH THE SNOW: Liquid Image snow goggles contain a wide angle video camera, up to 1080P, to record both video and audio of your skiing action. The Micro SD/SDHC card can record up to 32Gb of data. Lithium batteries should last 1.5 hours for video. The goggles themselves weigh around 240 grams. Olympic skiers should wear these! More at LiquidImage and video on YouTube.
IS IT REALLY 25 YEARS?: In January 1986 the Alvi brothers of Lahore, Pakistan introduced the first DOS-based computer virus to an unsuspecting world. The Brain Virus code actually included their names and address, and they told Time magazine all about it. The virus infected the boot sector of storage media such as floppies. It was only supposed to infect those who had pirated their software. Yeah, the road to hell and all that. More at CIO.
SOLAR TRANSPORT: They've recently had a few problems with snow in some parts of the world: roads closed, for example. One US engineer is proposing solar-powered roads made of super-strong glass, rather than asphalt. The solar power would fuel heating elements embedded in the roads and keep them clear of snow and ice. Solar roadways could even supply power for other purposes too. It's an interesting idea. More at CNN.
GOOGLE SCIENCE: The Google Science Fair is an online science and technology competition for teenagers around the world. Students build
their experiment and submit it online, using various Google services such as YouTube or Google Docs. Hey, how about a Google Poetry Fair? More at Google and video on YouTube.
BRICK BY BRICK: Lego: building blocks for fantasy worlds. An associate professor at Ohio State University has spent 1,000 hours of his leisure time over 2 years building a 1:100 scale model of Ohio Stadium. His model uses 1 million Lego bricks and measures 2.4 by 2 metres. The cost had it been built of all new bricks would have been around $75,000. That's dedication on a massive scale. More at Dispatch and slideshow.
- Miraz Jordan knowit.co.nz