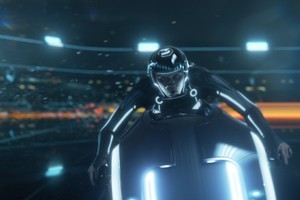 Intended to be a narrative bridge between the Tron films, Evolution is mainly divided into Assassin's Creed-inspired free running, and combat reminiscent of Batman: Arkham Asylum. This could have been a game-of-the-year contender but instead is a baffling, sometimes frantic and ultimately hollow experience.
The main character dashes about with excessively fluid control, causing the game's camera to throw fits and leaving you to fight enemies that end up off-screen. Sadly, you have a better chance of hitting them when you can't see them because the targeting system is like coping with refrigerator blindness. They might be in front of you, but you have little hope of reaching them. So you die.
On occasion the game's camera will punish you further by failing to show you where to jump during your free running, resulting in an embarrassing series of fatal falls.
Evolution also features magnetic grapple points, some of which you must find within half a second after jumping off a wall.
If you're lucky you might see one, hovering menacingly, before you plummet to your death.
What about the light cycles? Again - death after embarrassing death. If you get on a roll, the cycle action can be fun, but the kill-you parts are too numerous. Meanwhile, the light tank sequences represent gaming at its worst: awkward, unchallenging competition. At least you won't die much.
Rating: 1/5
Verdict: Evolution is like a sub-par platform game from the long-dead 16-bit era. Instead of wasting $100 here, fund a night at the movies and experience Tron as it should be.
Classification: Xbox 360
Rated: PG
-TimeOut