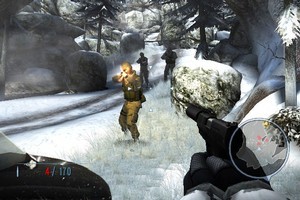 When this game dropped on the Nintendo 64 back in 1997, it brought with it a whole new level of expectation. It was a stunning first-person shooter and featured an exceptional multiplayer experience, meaning the Wii remake had very large shoes to fill.
While the new game is based on the original, it has developed its own personality, helped in part by current James Bond Daniel Craig filling Pierce Brosnan's original shoes, and swapping out most other characters.
The campaign mode gameplay is excellent, with the story modified to suit a more modern market - like a kick-ass smartphone instead of MI6 dossiers, and more time chasing EMP-proof choppers than putting up with irritating code monkey Boris.
Missions are challenging, which means re-running levels to get extra unlocks is well worthwhile. Weapon selection is vital - noise is a big issue when you're sneaking around trying to take out security cameras - and picking the fast path through a level often results in a slower run through.
Graphics, motion-capture and voice-over audio are about as good as you'll see on Wii, but the AI is a bit too basic. Not seeing the expected high-def explosion of someone's head in a first person shooter actually seems quaint - Goldeneye is the "nice" first person shooter.
Multiplayer is true to form and super-engaging with characters from gameplay unlocked alongside campaign mode playthrough. And yes, purists, the dinky four-player splitscreen is still on offer.
The biggest issue I had with the "new" Goldeneye was control. An attempt at using the nunchuck for movement, aiming and melee, and the Wii remote for aiming, firing, and so on was awkward, to say the least.
But using the Classic controller - with its control scheme more akin to next-gen consoles FPS layouts - seemed far more natural. Many have noted issues with a lack of voice chat in online multiplayer, although not being a fan of smack-talking idiots, it didn't bother me.
So far, only one big glitch has got me - a truck needed for a mission just appeared as a left-side door hanging in mid-air, requiring a reboot.
Verdict: One of the best first-person shooters ever, remaking Goldeneye for Wii may seem a bit wrong to purists. But Activision has excelled at retaining the feel of Rareware's original while giving it some new life. Would this be a five-star shooter on Xbox or PS3? Not quite. But on Wii, it's as good as it gets.
Rating: 5/5
Rated: R16
Format: Wii