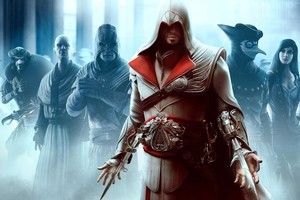 If the first Assassin's Creed adventure was a baby step, and if the second was a confident jog, then Brotherhood is a dash at full speed.
Rather than moving on to a new hero in a new age, developers Ubisoft Montreal wisely chose to continue the story of Ezio Auditore da Firenze, the hero of Assassin's Creed II, and his campaign to free Renaissance-era Italy from the tyrannical grip of a power-hungry Pope Alexander VI, his bloodthirsty relatives and the forces of the Knights Templar.
Where the previous game took Ezio (actually controlled from the future in a machine called an Animus, by a descendant who faces his own struggles with the Templars) from his home in Florence to several major regions in Italy, Brotherhood is set almost entirely within Rome's city limits.
What a city it is. Every street, every landmark, every tree, and every citizen is depicted in stunning detail. It would not be a surprise if this game does something for Italy's tourism numbers, but then again, when the landscapes look as good as this, why bother getting off the couch? Few games have gone so far as this to let the player feel as though they're doing something real.
Maybe too real, actually. As with parts one and two, there's a risk of simply spending so long sightseeing and hunting down objects in absurd places that a player can forget exactly where they are in the storyline. Then again, that choice is entirely up to you. You don't have to get every flag or feather to get fulfilment from this game.
The stalk-and-strike gameplay has undergone some tweaks, including brutal new grapple counters such as flipping an attacker over your shoulder and blasting him with your pistol as he flies, or waiting for him to land and then crushing his skull under your boot.
The most notable addition to battle gameplay is the addition of the titular brotherhood. Where once you'd have fought or fled entirely on your own, you can now call upon the services of your own clan of assassins.
Training your assassins is as simple as assigning them to specialist missions and waiting for the good news while you complete your own tasks, meaning there isn't a particularly heavy demand on your time or resources. They can rush to your aid, but you don't have to deviate from the plot to rush to theirs.
Horses play a bigger role in this game than in previous episodes, with the four-legged beasts now an integral part of some recon missions. It's also possible to fight on horseback, which can create a dangerously uneven playing field depending on who is in control. Dealing with a mounted, sword-swinging Templar can be a terrifying experience for a grounded assassin.
The new multiplayer aspect brings to fruition a series subplot in which the modern day Templars, or Abstergo, had been developing their own Animus program. Players sign in as Abstergo recruits and venture back in time to Italy to kill designated targets, and each other.
Relying on the matchmaking system for missions is an inconvenience at best, presumably because the rest of the worldwide player base is caught up in completing shop quests to unlock items that didn't need unlocking in previous games, so building up a network of friends to suit-up and get stabby is at this stage a necessary evil.
As with all games with extensive AI involvement, threats of erratic behaviour remain constant but barely fulfill themselves. To Brotherhood's credit, the controller-throwingly annoying situations are kept to a minimum and it is only truly bad when you are made to lead a gang of 20 men through a suburb already teeming with life.
Verdict: Espionage, honour, murder, betrayal - and a spot of rumpy-pumpy thrown in to ease the tension. You're in for a good time being a top assassin working in one of the most attractive virtual worlds ever drawn. This game combines the best aspects of the first two titles and dumps most of the worst, meaning the series' essence not only remains but has been improved upon, and it can be said with confidence that this is the best Assassin's Creed adventure so far.
Forget about soccer - Brotherhood is the beautiful game.
Rating: 5/5
Rated: M
Available on: Xbox 360, PS3