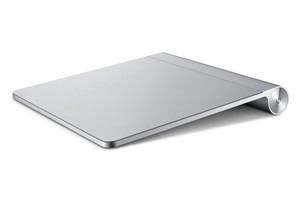 Input is a major part of computing, obviously. Put something in, set data in motion, benefit from the output.
The recent spread of touch-screen devices has changed the paradigm somewhat. I was at a kindergarten recently where they have iPod touches. The head teacher said it was funny - some kids, when in front of the iMac, put their fingers on the screen to move things around.
It's natural enough - it's one of the reasons iPads are finding such a strong following amongst those to whom moving a mouse off to the side of a screen to move something on that screen is not, in the least, intuitive.
These input worlds are slowly colliding - there have been rumours of touch-screen iMacs in patent filings, Meanwhile, MacBook trackpads get ever more sensitive to different gestures - two-finger swipes up and down' side to side for scrolling have been there for years, but now there are three and four-finger gestures, all controllable via System Preferences under the Trackpad tab.
Some people like the more direct input of a trackpad. It's still physically removed from the data on the screen, but at least it uses direct finger-touch and gestures.

Apple surprised people a few months ago when it released a standalone, wireless trackpad (called a Magic Trackpad) for desktops or for those who don't like the central position of the laptop versions.
What Apple conjured up is bigger than a MacBook trackpad. It's 13 centimetres wide by 11 deep, compared to a MacBook Pro's 10.5cm wide by 7.6 deep.
It tilts back from the tubular spine which houses the two AA batteries. It's an elegant design, but whether it's worth $122 is up to you, I guess.
'Mouse clicks' are executed by two rubbery nubs under the front which are actually left and right-click buttons - it's a clever idea but it takes a quite a strong press to click, compared to the clickable trackpad surface itself on MacBooks and MacBook Pros. But you do get used to it in a few minutes, and indeed, it's far less clumsy having a trackpad to the side instead of in the middle.
However, if you were expecting something like a Wacom tablet you could use with your fingers instead of a stylus, it doesn't fit the bill. Although you can fingertip-paint with gestures in a program like Photoshop, there's no pressure support, which is something Wacom tablets excel at. Press 'harder' with a Wacom stylus, and your virtual brush changes density to suit, like a real brush.
I also tried it with Final Cut, but it's not like a big scrubber or something, like you'd get with a Contour Design Shuttle controller ($175) or even a Kensington Expert Mouse ($119) so I don't believe I can make out the niche Apple had in mind with this standalone trackpad.
I seriously considered this as a mouse replacement and it does work well - it's fast and accurate enough and you soon get used to the facility of one fingertip to move the cursor, two fingers to swipe-scroll, and even the four-finger swipe for Exposé ... but I have a mouse (by Microsoft, as it happens) with a mouse pad with a padded wrist pad. You can't use the Magic Trackpad on a mouse pad because you need a hard surface so you can press for button clicks, which also precludes it from being used on your knee.
The thing I missed most after a couple of hours (I spend all day in front of my computer) was the wrist support built into my mouse pad. If I loved it enough, I could get a little standalone wrist-pad, sure. But I didn't.
iPad inputter
But it led me to a thought: isn't it obvious that an iPad would be an awesome editor/controller for Final Cut? I think so, and for Logic too, and even GarageBand - finger-slide volumes and pans, turn tracks on and off, initiate effects - I hope people have been working on this, as it's pretty obvious. Isn't it?
Numeric
While we're on handy input devices, I'm old-school when it comes to keyboards. A lot of people who have to crunch numbers are probably in the same boat. I'm a big user of Apple's excellent Calculator app, which is in the apps folder (don't be fooled into thinking the crappy and basic calculator widget accessible from the Dashboard is your only maths option).
Calculator sits in your Applications folder and I use it so much, I keep it in the Dock. It has a basic mode, plus Scientific and Programmer (change it in the View menu). More importantly, it has a brilliant Conversion menu, although the Currency mode seems to have stopped updating of late, and it has Show Paper Tape which you can save and print out. Of course, you can copy and paste results into documents and emails.
I'm not positing that this is any way superior to anything on Windows, by the way, so smooth your hackles. I'm just pointing this out for Mac users because it's one of the many little elements of the Mac OS many seem completely oblivious to, like Dictionary ... but that's another story.
The reason I like the numeric keypad on the full keyboard (which is not the default, but you can specify it when you order for no extra cost) is that it also has proper page up, down and home keys, a Forward Delete, and proper arrow keys.
Mostly, I love the fact that the Apple numeric keypad is laid out exactly the same as my Apple Calculator app.
And as a left hander, I use my mouse with my left hand and the numeric pad with my right for movement in games like Call of Duty and Bioshock.
The Magic Trackpad, by the way, is not much use for gaming. Sure, the fingertip control for movement is fast, smooth and accurate, but it just doesn't have enough buttons. Try and aim down the sights or lob a grenade - easy on a very basic mouse, not possible on the trackpad.
But if you're in the boat of having inadvertently got the stubby default Apple keyboard or you have a laptop, and you really want that numeric keypad back, you might be interested in the LMP Bluetooth Keypad.
It has 28 keys, has been tested to work in conjunction with Apple's Bluetooth wireless keyboard, has programmable F-keys F13-F17, the forward-delete and page keys. Oddly, it has up and down arrows but not left and right. It's powered by two AA batteries and even comes with a 'linkage bar' so you can directly connect it to that stubby Apple wireless keyboard if you want.
It's only $90, it's made for Macs, it's in brushed aluminium-look plastic and has very positive-feeling keys with a slightly textured surface, by comparison to Apple's smooth keys.
There's a tiny power button on the side and a bigger one that's a push-through to engage the big Apple power button on the side of the wireless Bluetooth keyboard, if you do physically link it. The little Bluetooth pairing button is underneath and needs to be pressed in with a paperclip or ballpoint pen tip.
It's good for my gaming style, too.
But yeah, gimme that iPad Final Cut controller app, someone!
- Mark Webster mac-nz.com