A round-up of the latest technology news from around the globe.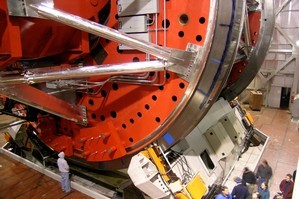 DOUBLE THE VISION: The Large Binocular Telescope in Arizona has two 8.4 metre mirrors and sees better than the Hubble Telescope. The trick is in a secondary mirror so thin that tiny magnets glued to the back can shape it to compensate for atmospheric distortion. It's all in how you look at it. Physorg has more.
FACEBOOKED: Traffic in Delhi, population 12 million, is a nightmare. But since the Traffic Police set up a Facebook page looking for information they've issued 665 tickets based on uploaded photos. It seems friending is more like grassing. More at NY Times.
PURPLE RINSE: To create a plastic membrane the University of Rochester peppered a hard plastic chip with tiny holes filled with liquid crystals and dye. The dye molecules straighten out under purple light, creating gaps that allow gas to flow through. Under UV light though the gas is blocked.
No word on what happens to the gas under ordinary daylight. Medical Daily has more.
RED SKY: China's building up a network of 35 satellites to create its own mapping and global positioning system. They launch their first high resolution, stereoscopic mapping satellite for civilian use in the second half of 2011. The eyes of the world are on all of us. Details at Times of India.
IN CHARGE: By next year newer mobile phones in the European Union will have mix and match chargers. Different brands of phone will all be able to use the same charger. What's astonishing is that it's taken them so long to do this.

- Miraz Jordan knowit.co.nz