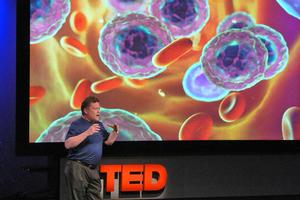 An international thinkers' forum has become one of the hottest tickets in town. Carole Cadwalladr explains
So, what is Ted? And, more importantly, why should I care?
For 26 years, Ted (Technology, Entertainment, Design) was a conference, an exclusive ideas forum where the great and the good came to hear Al Gore talk about climate change and Bill Gates about computing, right up until four years ago, when Ted Talks was launched online and promptly became an internet sensation.
It's a bit like YouTube, with short, cutting-edge talks by the world's leading neuroscientists, behavioural economists, video artists, philosophers, particle physicists, rocket scientists, endurance athletes, Aids researchers ... you name it, it's been at Ted.
What Ted does is seek out the most interesting, unusual and potentially groundbreaking ideas and then provide a platform to share them with the world.
The main event takes place once a year in Long Beach, California.
Next week, the new, annual Ted Global conference will occur in Oxford, England. It's a smaller, more intimate affair - 700 delegates (it's 2000 at Long Beach) listening to 50 speakers over four consecutive days.
Ted, a not-for-profit foundation, is something like the World Economic Forum might be if capitalism were replaced as the world's dominant ideological system by, say, optimism.
Can Ted change the world?
Possibly, possibly not. But trying to tackle social problems such as eradicating world hunger or reversing climate change seems a better place to start than, say, dreaming up new ways of propping up failed financial institutions with large injections of public money.
It's this mission that has helped Ted attract a mix of thinkers, writers, scientists, hedge-fund billionaires, tech entrepreneurs, philanthropists and radical ideologues. And that's just the audience.
The unique thing about Ted is that people such as Richard Dawkins, Bill Clinton, philosopher Daniel Dennett and biologist-entrepreneur Craig Venter speak for free and people such as Amazon's Jeff Bezos and Google's Larry Page and Sergey Brin pay to listen.
It sounds awfully elitist ...
It is. That's the point, or at least it used to be. It's also expensive, at £3460 ($7460) a ticket for Ted Global and almost £4000 in Long Beach. The main conference sells out within days of tickets being released. A tough vetting procedure is enforced.
To be invited, you must fill out an extensive application form, which includes questions such as what are your greatest personal achievements and how have they had an impact on society?
For the first 22 years, Ted was held in the chichi California seaside town of Monterey and was the hottest four-day dinner party on Earth; it was a kind of spring break for world thinkers, a place of inspiring ideas, but which only the select few would hear.
But in 2006, Ted took the decision to release these talks online (at ted.com). The response has been astonishing: there are, to date, 727 talks online.
Eighteen months ago, they had been viewed 50 million times; today, the viewing figure stands at more than 290 million. Ideas have become the new rock'n' roll.
And Ted is its rock festival?
It is. Obscure academics toiling away in unknown research institutes have been dragged into the light and turned into superstars. Everybody at Ted cites the example of Hans Rosling, a Swedish, bespectacled professor of international health whose Ted talk on that unlikely hot-button topic, statistics, has now been seen by millions.
Ted's new motto is "radical openness", which means that it gives away all its content free. But (and here's a trick to remember, newspaper executives), at its heart it's still exclusive and expensive.
A bit of elitism, it turns out, is good for business. Ted makes money, lots of money, and then tries to think up the most interesting ways of giving it away again.
But brilliantly, and possibly uniquely, Ted has no VIP section, no special celebtastic treatment.
Last year, in Oxford, Meg Ryan and Cameron Diaz showed up and, like everyone else at the conference, had to wear massive name tags the size of a dinner plate, which said "Meg Ryan" and "Cameron Diaz".
Even then, at least half the audience had no idea who they actually were and mobbed the theoretical physicist standing next to them.
Why the silly name?
In 1984, when it was founded by an information architect called Richard Saul Wurman, its mission was to bring together the brightest brains in technology, entertainment and design. At that first conference, a whizzy new computer was unveiled: the very first Apple Mac. And somebody brought some funny shiny silver discs, which was how the world was introduced to the CD-Rom.
It was still largely about Ted when, in 2001, Chris Anderson bought the organisation on behalf of his Sapling Foundation.
Anderson is not your average multimillionaire entrepreneur. He was born in rural Pakistan and his parents were missionaries.
And while sometimes the rich discover a social conscience after they've made their fortune, there's no doubt that Anderson had one from birth.
It was this, a degree in philosophy, plus some business nous and publishing experience, that gave him an insight into how Ted could be transformed from an elitist talking shop into a global ideas platform. Which is exactly what it has done.
Although there's still a techie element to Ted (last year, for example, saw a demonstration of a television powered by wireless electricity), it has developed a new seriousness under Anderson.
Its slogan is "Ideas Worth Spreading" and it is constantly challenging its members to apply their collective brainpower to intractable social issues. It was at Ted that Al Gore first delivered the talk which became An Inconvenient Truth.
In 2005, the Ted prize was inaugurated. It's awarded annually to an "exceptional individual". This year's winner was the TV chef Jamie Oliver. His wish is to create a popular movement that will inspire people to change the way they eat.
What is a Ted talk?
Quite apart from anything else, it's short. Each speaker - or "Tedster" - has just 18 minutes to sum up their life's work or their big idea.
While it attracts the most stellar of international speakers, cutting-edge scientists, ex-presidents, world-class philosophers and the like, the internet is a great leveller.
The greatest hits online have been people you've never heard of: the number one talk on ted.com is by the neuroscientist Jill Bolte Taylor, who grippingly describes the day when, aged 37, she had a massive stroke and, having studied the brain for her whole career, understood, even as her brain was shutting down, exactly how it was shutting down.
At number five is David Gallo, an oceanographer who was also last week a key speaker at Tedx Oilspill.
Tedx what?
Tedx is the latest unlikely but spectacularly successful grassroots innovation from Ted HQ. It's a mini-Ted. Self-organised and self-supporting, anyone can apply for a licence to host one and all Ted content is free, although most of those held so far use a mixture of recorded content and their own invited speakers.
There have already been 618 Tedx events in 98 countries, with another 577 planned, including Tedx Tehran, which will join Tedx Kibera, held in a shanty town in Kenya, and Tedx Nasa, featuring a roster of rocket scientists.
What improbable feats are predicted this year?
This year's theme is the somewhat untopical, "And Now the Good News". "Read any newspaper, or turn on any news report, and there's so much doom and gloom and cynicism," says Bruno Giussani, who has organised the event programme.
"But we think people are looking for a new sense of possibility; for rationally optimistic thinkers, for solutions to big and complex problems."
The ideas this year include those of Inge Missmahl, a German psychologist whose strategy for transforming Afghanistan is via the mental health of its people, and Peter Molyneux, who is revealing to the world "Microsoft's new intuitive interface".

It's a techie's wet dream, hotly awaited but never before seen - a Wii, basically, with no Wii or, at least, you become the Wii, controlling a screen with your movements or facial expressions.
Great, where do I sign up? Tickets for next year's Ted Global have just gone on sale. Its theme is "The Stuff of Life". See www.ted.com for details.
- OBSERVER