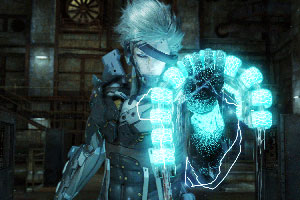 Hardcore gamers concerned that Xbox was leaving them behind for more family-friendly pastures were heartened today when Microsoft announced a sweet line-up of guts and glory at a press conference in Los Angeles.
While much attention has been heaped on the new Kinect add-on, which lets users control games and some Xbox features using just their body and voice, worried gameheads were wondering what would become of them.
But Kinect wasn't even mentioned for the first part of today's lavish media launch on the eve of the E3 games conference, showing that Microsoft still has plenty of love for its core audience.
The much-vaunted Call of Duty: Black Ops was first out of the blocks, after Microsoft's Don Mattrick dealt a blow to PlayStation shooter fans, announcing a deal with published Activision that will see add-ons and map packs exclusively released on the Xbox 360 first - for the next three years.
Footage from the game itself showed players crawling through tunnels, climbing over dismembered bodies, and included the frenetic firefight action and gory goodness that has made CoD titles like Modern Warfare 2 blow sales records to bits.
It also demonstrated a helicopter flying level, showing that producer Treyarch is willing to push boundaries in the series, which has mostly shunned vehicle levels.
Next up Hideo Kajima showed some stunning gameplay from Metal Gear Solid: Rising, which puts an incredibly powerful sword in the hands of Raiden.
Graphically, it looked lush, but the Zan-Datsu sword was the real star, slicing bodies on multiple angles, chopping through everything in the character's way - including a van - in what can only be described as 'meaty' fashion before deftly slicing a watermelon up into nice, bite-sized pieces. This will be one to look out for, and adds a whole new level of swordplay splatter to the gamescape.
Gears of War 3 showed some serious growth in terms of co-op player, with four combatants on stage fighting their way through an intense level with all of the action expected from this Epic epic. Mutants were blown to bits - lots of bits - as the foursome smoothly helped and healed each other's way through.
E3 favourite Peter Molyneux showed a trailer of Fable 3, which is set five years after the close of number two.
Molyneux described it as "from revolutionary to ruler and beyond", promising more of the British humour that tipped the two previous Fable games from good to great.
It appeared to be a darker, denser title focused on defending the city of Albion, and will release in the US on October 26th.
Halo Reach, the latest in the long line of mega-shooter Halo titles built on what we've seen in the recent online beta version (review here). Campaign mode looks to be stunning, styled in typical Halo fashion with more weapons, tougher enemies and a great excuse for a week off work.
A gladiatorial trailer bearing the label Codename Kingdoms showed off a high-action title to mark a new partnership between Crytek and Microsoft - epic battle scenes, gore and fun, but little information to back it up. Watch this space.
Motorsport sim favourite Forza Motorsport was shown briefly following the Kinetic presentation, with petrolhead producer Dan Greenwalt talking attendees through Turn 10's Bill Geise driving a short lap challenge - with no controller.
It seemed a bit hard to believe in a 'look mum, no hands' kind of way, but Geise showed precise control while putting mad passing manoeuvres on a variety of cars on one of the Forza 3 tracks.
Greenwalt also demonstrated walk-arounds of cars, where the player can simply reach out and touch parts of the car to bring up slick cut-scene footage of high-res engine parts and matching specs before 'opening' the door, getting in and pushing a big red go button.
This was the only existing mainstream game to get shown using the new Kinetic technology. Should be good, race fans, but not until sometime in 2011.