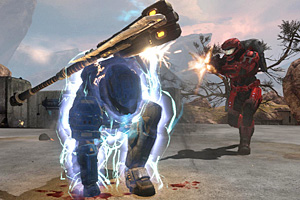 It's already one of the biggest hits of the year, and it hasn't even been finished yet.
Since the public launch of the Halo: Reach online beta on May 4, fans have logged on in heavy numbers - over a million on the first day alone - to road test Bungie's final Halo effort as the developers look for ways to improve upon its multiplayer modes.
Team deathmatch and objective games are back on the table for Reach after taking a backseat to the innovative Firefight mode in last year's Halo 3: ODST, with Headhunter promising to be the prime timewaster.
Each player begins the match in possession of a flaming skull. The aim is to kill your opponents, collect their skulls and deposit them in a designated zone.
It sounds simple enough, and would be if players weren't marked with an overhead counter which shows opponents how many skulls they have. While stockpiling more than nine at once will instantly win the game, players with a healthy number of skulls would be hard-pressed to reach a dumping zone without attracting attention, and subsequently, a deadly hail of bullets and grenades.
Speaking of which, there are some issues to sort out before the game's October release.
Grenades must be at the top of the repair list, since they have an excessively broad blast radius and are far deadlier than in any previous version of Halo.
This becomes a significant problem when a player is using either the grenade launcher or the plasma grenade launcher, both new additions to the Halo armoury.
The graphics are beautiful, but some of the sprite animations are awkward. Try a jumping attack with an energy sword and watch as miracles happen - your character is walking on air!
Body parts clip in and out at odd times. Not just in wall-hugging moments but - again - during key animations.
The player health system has been tweaked, with separate shield and health bars set to stay. Their on-screen placement, apparently higher up the VDU than in previous releases, requires a bit more attention.
Shields are stronger against weapons but can be drained completely with one melee attack, meaning the effectiveness of trusted methods like the assault rifle and melee attack combo are now less effective than simply punching an opponent twice.
This is a gamechanger for fans of the sniper rifle. While a single headshot will still kill an opponent, it will take up to five body shots to achieve the same result.
Likewise for the new needle rifle, the true effectiveness of which I'm yet to work out. Needless to say it's one to avoid at this point since a player can take you out before you've pumped them full of enough explosive needles to cause a fatal detonation.
The plasma grenade launcher is incredibly difficult to fight against and already has a reputation as being "that" weapon - the one people who are useless at Halo use to get easy kills. It takes only a matter of seconds to warm the launcher up, lock onto a target and send a volley of plasma grenades toward an opponent who has little hope of survival, unless they're using the armour lock.
Armour lock is one of four abilities which replace deployed equipment in Halo: Reach, and it is these abilities which set this game apart from Halo 3's multiplayer mode, which hadn't evolved dramatically from that of Halo 2.
Each ability is regulated by a power gauge, which depletes during use and replenishes when switched off.
Stalker lets a player activate active camo (invisibility) but at a price - turning it on causes the motion trackers of everyone nearby, including the user, to scramble. This alerts opponents to the fact that someone is trying to sneak around them, but a player can reduce their chances of being caught if they move as slowly as possible. Speeding up to even walking speed will cause the player's body to become somewhat opaque. If you're going to stalk, do it in style.
Guard allows a player about five seconds of armour lock - complete invincibility in exchange for a complete lack of mobility. Nothing can pierce it, and at the end of the charge an electromagnetic pulse is emitted, disabling the shields of enemies nearby. This gives the player a chance to get a quick kill and save themselves from certain death.
Scout gives the player a sprinting ability, handy for objective-based collection games and those hairy moments when you absolutely have to beat your opponent to the focus rifle, needle rifle, designated marksman rifle or any of the other new weapons in the Reach beta. In a neat nod to realism, sprinting players can be heard huffing and panting. Yes, those Spartans are humans after all.
Most significant is the Airborne ability, giving players a jetpack with limited flight capability. Put a rocket launcher, rifle or even a gravity hammer in the hands of one of these soldiers and the game's dynamic changes considerably.
It is easy enough to predict that Reach's multiplayer experience will top all others in the franchise, but there are plenty of niggling annoyances in this beta, other than frag-happy grenadiers, and Bungie has already pledged to deal with them.
One of the worst is an audio issue. Try playing the classic grab-and-dash game, Oddball, without wanting to punch your TV through the wall.
Jeff Steitzer, the Halo multiplayer announcer, has a cool voice but it's not so cool when you're forced to hear a constant barrage of "ball taken, ball dropped, ball taken, ball dropped, ball taken, ball dropped..." every time the oddball is traded, which is infuriatingly often.
Other fixes on the agenda include targeting reticles which are thin and wispy, issues with players being able to melee kill each other simultaneously and - bless! - those horrible grenades.
Cheers for that last one, Bungie.
The beta is currently scheduled to go offline on Monday, and is available to Xbox 360 gamers with a copy of the ODST campaign disc.