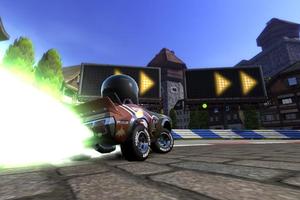 I am so hanging out for the long awaited Gran Turismo 5 on PlayStation3 - one of the reasons I bought the console - but it's proving to be a long frustrating wait.
The other day I saw the release date, once said to be around Christmas-January past, was September and now I see it's October.
By then, it appears to be a 3D release made to show off the new Sony 3D TVs. I hope it will also be in 2D otherwise it would restrict those of us who can play it.
The latest delays are said to be to allow the developer to incorporate and make it compatible with the new PlayStation Move motion controller.
Gaming site 1UP reports that an event in Tokyo last week showed a playable version of the new game and concluded:
"The game running in 3D looked no better or worse than it did when shown in 2D form at previous events, although we guess side-by-side comparisons would more clearly reveal some of the cutbacks that necessary to get current-gen consoles running games in 3D.
"The game's 3D effects appear like 2D images layered on top of each other rather than giving the illusion of full 3D objects. But on the plus side it notes the game's sharp focus and subtle use of 3D makes it easier on the eyes.
"I hope after all this wait, it's the release that really takes gaming to the next level but I also hope that's in both 2D and 3D versions.
The jury is still out on 3D but I'm keen to check out GT5.
Meantime, racing fans have Sony's ModNation Racers on PS3 and PSP and that's good fun for the forgotten skill of kart racing - a popular Nintendo genre that has been forgotten in the console battles for the fastest motor racing game on the planet.
The game is notable as being part of Sony's 'Play Create Share' concept, shown off in the Little Big Planet title last year.
This means casual gamers can just have fun hurling around the track while others can get lost in the customisation tools available and spend hours making characters, tinkering with cars and tracks.
Again this is a good example of how gaming is going further than just playing through what the developers give you in the core game but being able to get more deeply involved in creating a game you enjoy, playing other user generated content including downloads and joining online communities.
Colourful, cute and with a wide range of tools that are easy to use, the game will get you lost for hours and recapture your youthful desire to go out and build your own real kart to tear around the neighbourhood with.
Let's hope the next political debate is not about the sudden emergence of boy kart racers frightening pedestrians!
While there are no real physics in a game like this, it is huge fun to take down your opponents with a shove or a rocket. The only reservations are slow loading times and the annoying introduction by two "TV commentators" which goes on too long when you really just want to get into the action.
MadGamer rating: 7 / 10