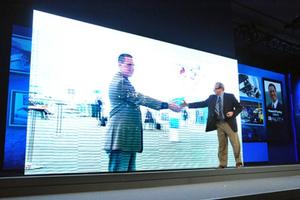 If the Mobile Core i7 CPU announced at Intel's Developer Forum last week got wannabe notebook owners excited, its next-gen TV announcements should have couch potatoes positively bursting with glee.
Intel have just announced the successor to its CE3100 media chip which powers a multitude of set top boxes, Blu-ray players and hard drive recorders. Called the Atom CE4100, it looks to be an insanely powerful piece of silicon that could transform how we interact with the goggle box.
Not only is it able to work all the TV magic of its older sibling, but it can decode two full HD 1080p video streams (which is great for recording multiple channels), it also supports high-end audio such as Dolby Digital, DTS, making it home theatre friendly.
The CE4100 also supports MPEG4 video, which means watching content off the interweb is do-able, whilst beefed 3D graphics mean next-gen TV connected dodads will incorporate eye-popping user interfaces.
Last but by no means least, it'll also capture uncompressed 1080p full HD video (letting you play and display HD video you've filmed on a capable camcorder).
Muscular media chips aside, the other piece of the puzzle is the software powering set top boxes.
According Eric Kim, senior vice president and GM of Intel's Digital Home Group, people want simplicity "Don't make my TV act like a PC". This presents set top box designers and broadcasters with bit of a conundrum as people also want access to rich video content. The trouble with this is that according to IDC stats presented by Intel's CTO, Justin Rattner, a staggering 500 billion hours of content will be available by 2015, making sorting TV show wheat from chaff a real chore.
Last year Intel teamed up with Yahoo to simplify the digital TV experience with TV widget software framework for developers and manufacturers.
Using the widget channel frameworks set top box, TV, hard disk recorder and Blu-ray manufacturers have been able to develop a TV specific interface made up of small widgets which complimented TV viewing by adding content such as sports scores, weather and other content.
Whilst a step in the right direction, the usefulness of widgets was limited and to this end, Intel also announced its are partnering with Adobe to support Adobe Flash 10 on the CE4100 processor - which will allow them to deliver a richer user interface.
If the demonstration by Kim was anything go by, the combination of the Atom CE4100 and Adobe Flash 10 is going to make watching TV both sharp and clear, and a whole lot more fun.
Kicking things off, Kim and actor LeVar Burton (who played Geordi La Forge in Star Trek: The Next Generation) demonstrated the CE4100 in action.
Channels surfing presented a slick column of scrollable thumbnail channels down the right hand side of the TV.
Whilst watching a show, an interactive banner popped up along the bottom of the screen offering to email info on specific products, which gets a big thumbs up as it is far less intrusive than today's in-your-face TV advertising.
Other banners also talked up new shows and offered to record them for later viewing. Accessing content already recorded presented Kim with a slick looking 3D wall of video thumbnails with a synopsis available for each show selected using the remote.
While that was pretty wow-some, Kim then demonstrated how he could use his voice to search for shows. This may sound very Star Trek like, it could actually be of genuine use by reducing the number of button presses required to interact with your TV.
Another option hinted at by Kim was gesture control which should be instantly familiar to anyone who's used a Nintendo Wii gaming console and is likely to involve you pointing your remote at the on screen interface to drive the TV.
Using Adobe Flash 10 to power TV connected appliances also has another benefit. There are literally millions of developers already writing amazing Flash applications, most of which will happily run on a CE4100-powered box plugged into your TV, potentially leading to the emergence of a whole new category of Flash applications that are TV specific.
Transgaming Inc was also on hand to showcase a TV gaming service which is set for a US launch early next year. The service will see many older PC games (which will present game developers with a new means of wringing extra cash out of back catalogues) and newer made for TV games showing up in lounges in the near future for rent or purchase. Should Sony, Nintendo and Microsoft be worried? Only time will tell.
If Intel's CE4100 media processor is the near term, what about the distant future of the lounge? According to Intel's Chief Technology Officer, Justin Rattner, "TV will be whatever you want it to be" and "it's going exponential" in terms of the proliferation of content. Even more significant, TV is about to get a whole lot smarter.
As part of Rattner's keynote he demonstrated object detection technologies that will personalise TV viewing. Take watching a rugby game for instance. As your future smart TV recognises a players face, it could display a brief player biography along the bottom of the screen. Taking things one step further, Rattner also demonstrated how object recognition with the set top box could track a ball to generate a list of custom replays for your very own video mash up.
Rattner also demonstrated how future smart set-top boxes can learn your surfing and viewing habits to ensure you're only targeted with advertising that's relevant to you.
Another intriguing possibility is the ability for the future set top box to wirelessly scan the portable media players, smartphones and other devices of people in the lounge to generate a recommended list of TV shows based on their viewing tastes.
Needless to say, arguments over the TV remote could soon pale in comparison to those around who's suggested TV playlist gets watched.
In addition to developing greater smarts, Rattner also envisages that TV watching in the future will become an increasingly social undertaking.
Broadband connected set top boxes let you send TV show recommendations to the set top boxes of friends, but camera equipped TVs will also let you share TV programmes. Friends can then watch the show remotely in their own lounge and talk about it via a small video window in the bottom corner of your TV whilst the show is playing.
Perhaps the last yet most significant aspect of TV in the future however will be immersiveness. Whilst home theatre systems have already bought immersive DTS and Dolby or THX surround sound to our lounges, future TVs look set to take immersion to a whole new level.
Whilst 3D LCD TVs were widely exhibited at the Intel Developers Forum, most requiring users wear funky (and easily broken or lost) glasses to get the full 3D effect.
As in cinemas, 3D content literally popped out the screen and added a whole new level to catching a show. As part of Rattner's keynote, he introduced HDI, a start up who are developing laser projected 3D TV. Using clever projection techniques, viewers don't need glasses to get the full 3D effect.
Using a combination of red green and blue lasers also allows HDI to deliver a massive range of incredibly accurate colours. The good news with 3D TV immersiveness is that it is breathtakingly cool. The bad news? Having just persuaded your significant other that you needed a 40" HD capable flat screen TV, persuading them you now need a 40" flat screen 3D TV could be a real challenge.