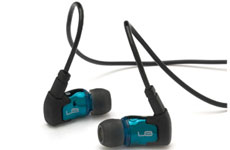 For most of us, triple-driver earphones might not mean much, but after doing some extensive testing with a pair of Logitech's stunning Triple.Fi 10 earbuds, I'm willing to wager that triple driver earbuds are going to be massive with audiophiles wanting a dose of vitamin hi-fi on the go.
Having recently acquired high-end headphone manufacturer, Ultimate Ears, Logitech are set to make a serious land-grab in the upper end of the headphone market by marrying their marketing muscle with Ultimate Ears three speaker earphone designs. Using Three drivers allow the Triple.Fi 10's to deliver impressively accurate audio in superb detail across the entire sound spectrum.
Audio Performance
Speaking of sound, the Triple.Fi 10's definitely delivered on the audio front, cranking out some of the most impressive audio I've ever heard from a pair of ear buds.
Unlike cheaper buds, audio from the Triple.Fi 10's wasn't harsh or fatiguing, but was instead rich, detailed and extremely accurate.
Where lesser cans merely hint at Bass, the Triple.Fi 10's oonst-oozed with all the velvety smoothness you'd expect from a pair of full-sized studio monitors thanks to the use of dedicated bass drivers.
Highs remained sparkly, but didn't scream, and mids were balanced, contributing to a transparent yet highly accurate soundstage.
Look and Feel
They may be larger than common garden variety earbuds, but the Triple.Fi 10's glossy blue metallic finish makes for a pleasant change compared to the now clichéd white-on-white buds worn by masses of iPod owners worldwide.
Comfort-wise, the Triple.Fi 10's also performed well thanks to their lightweight design and use of sensible ergonomics which included multiple rubber and foam ear tips to cater for different sized ear canals.
Even after prolonged periods of listening the Triple.Fi 10's were comfy to the point where I nearly forgot they were bunged in my ears.
In terms of accessories, the Triple.Fi 10's also came with a good bundle of bits, including an aluminium carry case, a headphone jack adapter, an extension cord, a level attenuator (which keeps volume levels even to prevent hearing damage), and a cleaning tool. There's even an iPhone compatible version with a built in mic which allows you to take or make calls (for an extra $50).
Whilst the Triple.Fi 10's high-end price tag ensures they won't be snapped up by budget conscious buyers, audiophiles wanting to wring some extra sonic sweetness out of their portable audio players will be hard pressed to match the sheer audio quality offered by these little stunners.
Techie Stuff
Input Sensitivity: 117dB/mW
Frequency: Response 10 to 17,000 Hz
Impedance: 32 ohms
Noise Isolation: - 26dB
Input connector: 3.5mm gold plated
Weight With cable assembly: 170g
Triple.Fi 10 RRP$699.90
Triple.Fi 10Vi RRP$749.90
By Pat Pilcher