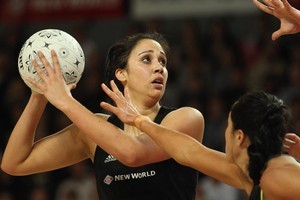 A permanent switch of codes may be on the horizon for former Silver Ferns shooter Daneka Wipiiti, who has accepted an offer to trial for the Tall Ferns next month.
After impressing for Otago in their recent women's national basketball championship win, Wipiiti has been invited to join the Tall Ferns in camp in Melbourne.
Wipiiti was the star for Otago in their win over Nelson last weekend, scoring a game-high 21 points and adding 15 rebounds to take out this year's title.
The camp will run from September 1-7, at the end of which the 16-strong squad will be culled to 12 for the Oceania Series against Australia. The winner of the series will earn automatic qualification for the London Olympics.
Wipiiti, who made herself unavailable for Silver Ferns selection due to family commitments, felt privileged to have a crack at basketball.
"Sometimes when one door closes another one opens and I'm lucky enough to have the opportunity to maybe represent my country at something else and do something different," the 28-year-old said.
"I just think it is a huge opportunity and I'm very lucky to be invited to trial. I'm very nervous, but also very excited."
Wipiiti decided to take six months away from netball to focus on being a mum while her partner, Southland lock Joe Tuineau, prepared for the Rugby World Cup with Tonga.
The couple have moved to Auckland, where Wipiiti has taken up a role in the sports department at Kristin School. But she is confident she will be able to make room in her schedule for her new sport.
"My family still comes first so I have to sit down and really work through the dates with the programme and obviously the training regime they want to set," she said.
Wipiiti is training with the Auckland-based players two times a week prior to the camp, while Tall Ferns assistant coach Aik Ho is also holding one-on-one sessions with the 1.94m forward.
Ho said although Wipiiti, whose father Kevin is a well-known Taranaki basketball identity, had some knowledge of basketball, it was a big ask to get her up to speed so quickly.
"We don't want to set her up to fail so she needs those support systems.
"The big thing for her will be adjusting to the physicality of the game. She definitely has the size to match up, but I think the first thing will be getting the pads out and really just getting her used to that physical side of it."
The Tall Ferns' haste is due to the lack of height in New Zealand basketball - as Otago coach Brent Matehaere said "you can't coach 6'5". The Ferns have been in dire need of a player of Wipiiti's size since Jess McCormack walked away from the game.
New Zealand basketball officials have been courting Wipiiti since she made the decision to suit up for the Otago Goldrush in the national championships. She did it more for the social aspect and to keep fit, but the lure of playing in an Olympic Games proved irresistible.
"I've never really thought much about going to an Olympics because I never thought it would be an option for me with netball not being an Olympic sport, so to sit down and actually think about it is quite mind-blowing really."