Mayor faces increase of 5.3 per cent but is confident he can get it under 4 per cent without drastic service reductions.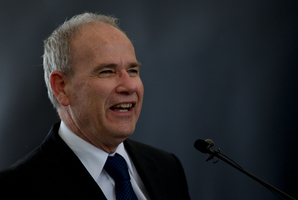 Auckland Mayor Len Brown is expecting an overall rates increase of "well below 4 per cent" when he tables the first cut of next year's budget on Thursday.
The figures now show a rates increase of 5.3 per cent, based on the work scheduled in the long-term plan, but Mr Brown is confident of bringing this down with "rats and mice service reductions" rather than any big bang measures, such as the proposal to close Snells Beach and Grey Lynn libraries.
The most controversial saving proposal is an end to mowing berms in the former Auckland City area at a saving of $3 million.
Another suggestion is to close some visitor information offices to cancel a $700,000 loss by the network each year.
Mr Brown said the average Auckland rates increase should stay well below 4 per cent.
"It's important to balance the investment required in Auckland'sfuture against keeping costs under control for Auckland families," he said.
"Every branch of council was asked to put up proposed savings and efficiencies as part of this process.
"It would be inappropriate for me to comment in detail before councillors consider my proposal.
"However I am confident we can make the necessary savings with-out significantly affecting service levels."
Mr Brown, through council chief executive Doug McKay, has been putting the squeeze on council departments, council-controlled organisations and local boards to trim their spending by 3 per cent for the 2012-2013 budget.
The mayor is preparing his budget when inflation is running at 0.8 per cent, which presents a big challenge to keep his promise to hold rates near the rate of inflation.
Chief finance officer Andrew McKenzie said it was misleading to compare rates increases to the consumer price index because the council's level of inflation was based on a mix of inputs and was higher.
The leader of the Communities and Residents ticket, Christine Fletcher, said the right-leaning group had asked officers to come up with options for a 2 per cent rates increase. C&R wanted the council to focus on savings to big projects.
Orakei councillor Cameron Brewer said he would trim big capital projects for the central city, waterfront and defer $460 million of spending over the next three years on the $2.86 billion inner city rail loop.
Councillors will receive a paper on the budget from Mr Brown at Thursday's council meeting and debate it a week later at the strategy and finance committee.

Number crunching
*5.3% rates increase faced by Mayor Len Brown.
*Below 4% is the target.
*0.8% is the rate of inflation, making it tough for Mr Brown to keep close to inflation rate.