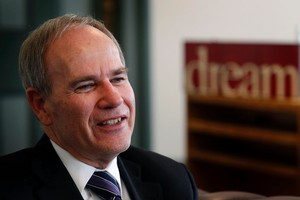 The Auckland Council has tagged an extra $3.3 million for heritage in the draft long-term budget, to a mixed reaction from Mayor Len Brown.
The mayor yesterday voted for an extra $1.9 million over 10 years to conduct heritage surveys, but drew the line at $1.4 million extra over 10 years for things like heritage trails, booklets and digitising heritage material.
"I acknowledge heritage is a key issue, but there is a limit as to how far we can go," said an unhappy-looking Mr Brown.
He was referring to extra spending being added to his first draft 10-year budget, which is full of big projects like the $2.4 billion inner-city rail loop with virtually no capacity for small extras, such as heritage.
Chief executive Doug McKay said: "I don't know where this money [the heritage $3.3 million] is coming from. I don't have any more savings."
But councillor Sandra Coney, the parks, recreation and heritage forum chairwoman who proposed the new spending, was thrilled at boosting the council's heritage budget.
She said the council's baseline budget of $4 million for heritage was low because only two of the eight former councils - the Auckland Regional Council and Auckland City Council - had provided money for heritage.
"This'll really build up the capacity of the council to live up to the promises it's been making around heritage."
The $1.9 million would enable the council to carry out surveys around the region as the city entered a period of intensification, she said.
No money was available for this at present.
And the $1.4 million would enable the council to do more in the way of research and education, such as providing heritage trails, information booklets and digitising heritagematerial.
The extra $140,000 a year was on top of the existing heritage budget of $4 million a year.
The council has also set up a heritage acquisition fund which stands at $10 million, with increases of $4 million a year over the next 10 years, and established a heritage advisory panel.