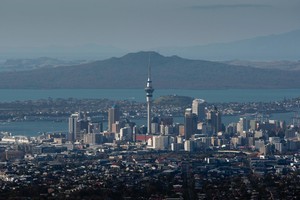 Eight growth areas will claim planning and investment priority over the next three years in a bid to have a top-class city centre, revitalised outer centres and bigger rural satellite towns.
They are the city centre, Hobsonville, New Lynn, Onehunga, Tamaki, Takapuna, Warkworth satellite and Pukekohe satellite.
Also in the civic green lane as part of the new draft plan for intense growth are Hobsonville, Onehunga town centre and suburban area, and Tamaki town centres and suburbs.
The draft plan says giving certainty about where major public investment will occur will encourage property development.
Zonings will be amended to allow greater housing densities and the council would use its property to get developments moving, and would form joint-ventures with private businesses.
Some of the priority areas can be developed easily because of good sewerage, or, like New Lynn and Onehunga, good rail and bus services.
In New Lynn, for example, spending of $127.8 million is proposed to support private developers to revitalise the town for 20,000 residents and 14,000 employees by 2030.
The draft, which goes out for public comment next month, calls for a quality compact international city centre, including the waterfront and city fringe centres Ponsonby, Three Lamps, Karangahape Rd, Parnell and Grafton.
The major metropolitan centres will be Takapuna, New Lynn, Manukau, Albany, Papakura, Sylvia Park and Westgate.
Only limited growth is flagged for the town centres of Howick and Devonport and for local centres Grey Lynn, Kingsland, Mt Eden, Mission Bay, St Heliers, Titirangi and Valley Rd.
Satellite rural towns due for upsizing are Pukekohe, Warkworth and Helensville.
Highest buildings and residential densities will be in the city centre with up to 50 to 200 dwellings per hectare in buildings up to 20 levels.
The city fringe centres will be more medium-rise and density, and retain character neighbourhoods - a mix of new and traditional. Major metropolitan centres will have medium-rise buildings to a density of 40 to 100 dwellings per hectare. Town centres will be medium to low-rise, of 20 to 60 dwellings per hectare.
Sixty per cent of new homes will be attached to someone else's or in low, medium or high-rise apartments.