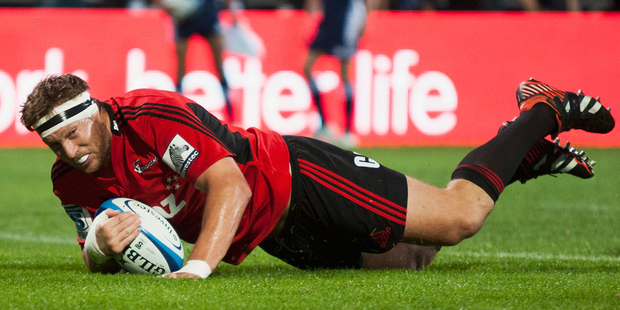 It is hard to remember why there were concerns about the Crusaders a few weeks back.
This is the team that can suddenly do no wrong. The Kings, always ripe for a proper going over, got exactly that. They endured a long night where their defensive line was passive and their impact at the collision non-existent.
No one could survive against the Crusaders playing like that. They didn't need space to get going but as the Kings were kind enough to supply it, they milked every inch.
The intensity and passion for the contest was pretty much all it should have been and finally, the accuracy and clinical execution that had escaped them this season, came on tap. They were lethal and yet it felt as if they had plenty more to come.
They emptied the bench early because they are off to Africa this morning and it made sense to rest a few senior legs.
Their lineout was exemplary and they played largely off the quality of the ball they took off the tail.
The runners came in waves and the rhythm was easy and hypnotic.
The Crusaders have sharpened their attacking game. They used more dummy runners, worked the ball around the corner and went from touchline to touchline. The Kings were stuffed _ they couldn't cover the ground of block the holes and it only took the Crusaders half an hour to nab the bonus point.
The Kings were shell-shocked _ they hadn't encountered anything like that in their Super Rugby experience so far. This was fast, intense, way too good for the new boys.
They hadn't seen a player like Kieran Read at full noise before. The Crusaders captain really does look increasingly like Richie McCaw in the way he leads by example; by the way he takes the game to the opposition.
His first few charges were actually quite scary such was the venom. He looked sharp, focused and determined not to assume the victory would come just because the

Crusaders stacked as a superior side on paper. He limped off but the damage didn't look severe.
His back-row chums Matt Todd and George Whitelock weren't far behind _ the latter scoring three tries, not because he was lurking with intent in places he shouldn't have been, but because he was in the thick of the action.
The former was more impressive again _ his ball carrying strong and work rate huge. Those two didn't really have any choice _ Read had that look about him that said he wasn't going to tolerate anyone falling off the pace or show-boating against an oppon ent that was obviously struggling

from as early as the fourth minute. There may also have been a little emotion in the air as Zac Guildford made his playing return.
The troubled wing was due to start on the bench but a late withdrawal by Israel Dagg resulted in a reshuffle and Guildford wore No11. He was afforded a resounding welcome and an extra cheer when he made his first touch.
His overall performance was encouraging without being devastating but given his lack of football in recent months, he'd be happy enough with the way he went.
Having taken 10 points from their last two games, the Crusaders have momentum and confidence. But they face a tricky month as they are on the plane this morning without Daniel Carter who will be staying at home to have a baby and there will be concerns over Owen Franks who came off with a leg niggle.
Carter did plenty without really extending himself, but that is the magic of his contribution. He kept finding runners, kept his side going forward and probing the right areas.
His goal-kicking was once again superb as well and when he's not there the Crusaders will notice and they can only hope that Tyler Bleyendaal and Tom Taylor can step up.
More accurately, they are going to have to hope that Ryan Crotty, Robbie Fruean, Dagg, Guildford and Tom Marshall continue to be so flexible and full of energy as they have been. All of them, as well as Johnny McNicholl, have been happy in the last last two games to come into first receiver and take the decision-making pressure off Carter.
That seamless ability of players to slot in wherever is what made the Crusaders flow so well tonight.
Crusaders 55 (G. Whitelock (3), W. Crockett, W. Heinz, M. Todd, L. Whitelock tries; D. Carter 5 cons, 2 pens; T. Bleyendaal 2 cons) Kings 20 (W. van der Walt, G. Whitehead tries; D. Catrakilis 2 pens; G. Whitehead con)