Blues coach in special trip to capital in bid to convince star midfielder to stay at struggling Auckland franchise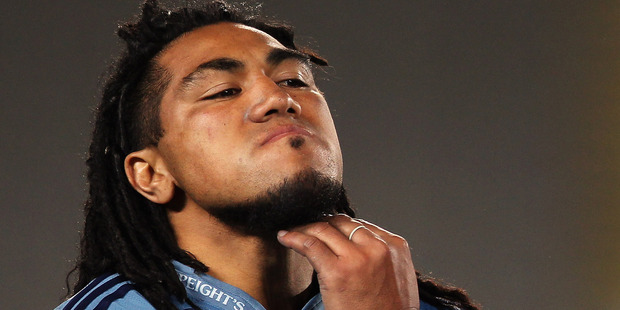 John Kirwan's pitch to convince Ma'a Nonu to stay with the Blues went up a notch yesterday when the pair met for the first time in Wellington.
Instead of nabbing the midfield back for a chat in Auckland today before the All Blacks' departure for Argentina, Kirwan flew to the capital to deliver his coaching vision.
"It was a good catch-up and an important start if things eventuate," Kirwan said. "There is no pressure. I would love to have Ma'a but I did not ask him about coming. I put my case and it is up to him to consider what his plans are."
Nonu is contracted to the Blues for next season. However, he has an out clause which he can trigger if he wants to go overseas or even apply to change franchises.
Ideally, Nonu would like to play in his home city for the Hurricanes but neither he nor Piri Weepu were part of coach Mark Hammett's plans this year and there has been nothing to indicate that will change.
The rugby chatterlines have been growing with murmurs that Nonu was keen to follow fellow All Black Tony Woodcock down to the Highlanders to make a fresh start with a set of new coaches.
Nonu has until September 30, when he will be in the middle of the All Blacks' trip to Argentina and South Africa, to decide if he wants to invoke the out clause in his NZRU deal to pursue other interests. His agents were unable to offer any clues about Nonu's intentions yesterday. That delay will cause a knock-on effect for the Blues, who have Nonu and Francis Saili as their midfield men with perhaps Michael Hobbs as cover.
The Blues are also keen on several other young midfield backs but cannot decide if they want to shift them inside their protected group of 28 players or risk them being snapped up in the draft when that process starts a week before the October 31 teams announcement.
Those decisions involve a fair amount of bluff and counter-bluff from the five franchises with the Highlanders the only group looking to pick up a handful of recruits.
Nonu played 110 games for the Hurricanes and 14 for the Blues in his inaugural season.
He returned late from a post-World Cup stint in Japan and made his debut for the Blues when they travelled away to South Africa. His form was steady in a disjointed side which slipped off the pace early and continued to slide.
Eventually Nonu was picked for the All Black squad but spelled from the entire June test programme to freshen up while Sonny Bill Williams showed his form.
Had Williams stayed, Nonu would have faced a serious challenge to return to his favoured second five role and may have thought more about playing overseas.
Nonu's task to hold his test place is nowhere near as fraught now with Tamati Ellison his understudy but he is not so comfortable about commuting and playing his Super rugby in Auckland.
The Blues began their quest for a playing roster late because they were the only franchise to have a complete staff overhaul.
Coach Pat Lam was replaced by Kirwan in mid-July and a month later he revealed that Graham Henry, Mick Byrne and Grant Doorey would be on his staff.
Player retention, contracting and recruiting then got into full swing.
Kirwan and his crew have added slowly to the roster with announcements that Chris Noakes, Brendon O'Connor, Marty McKenzie and Bryn Hall are joining the squad.
But there have been departures, with Woodcock, Alby Mathewson and Rudi Wulf heading away, Isaia Toeava, Lachie Munro, Benson Stanley, Bradley Mika, Chris Lowrey, Jerome Kaino and Tevita Mailau gone and others like Nonu in limbo.