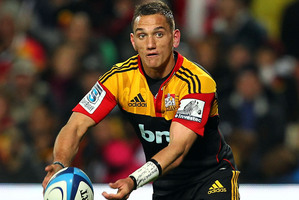 All eyes are on Aaron Cruden now as the Chiefs first five-eighths bids to take another step towards convincing he can control as much with his boot as he can with his running game.
A commanding performance from the Chiefs pack combined with a defensive effort that rattled the Crusaders for 80 minutes formed the undeniable base for victory. But just as important was the poise and invention of Cruden - who not only scampered like the imp he is but also delivered the polished kicking, tactical performance that has in the past been the missing part of his armoury.
He wasn't perfect but he was effective: his goalkicking held up, he pumped the ball long when he had to and there was awareness and vision in the way he pulled the strings.
On balance, he offered more than Daniel Carter. "That's obviously why we chased him from the Hurricanes," said Chiefs coach Dave Rennie. "He's a bloody good man, he's an outstanding player and I think he can be better.
He's working really hard on developing his kicking game and controlling the game with his boot. We know he can do it with ball in hand - he was another big contributor for us."
It takes a great No 10 to steer a side to a Super Rugby title and Cruden is on the verge of establishing himself as just that. This week will provide the ultimate test of how far he's come. The Chiefs have appeared in only one previous final - in 2009 when they were blasted off the park by the Bulls in Pretoria.
Disturbingly, perhaps, 2012 is following an eerily similar path: back in 2009 the Chiefs had to play an epic semifinal at home against a New Zealand side [Hurricanes] and then fly to Africa. It was a step too far three years ago, the Chiefs clearly having emptied themselves just to make the last two. They didn't fire a shot in Pretoria and Cruden is conscious of not falling into the same trap this time round.
"I think we have to give it [the final] what we gave tonight and a bit more," says Cruden. "We can be really proud that we made it to the final but we have got one more hurdle, one more step. No matter where we are we have a lot of work to do."
He, more than most, faces a personal challenge of not being satisfied with what has been achieved to date. There was risk attached to his move to Hamilton; when he signed last year, few people saw the Chiefs as potential title winners in 2012. At best, they were maybe going to have a strong rebuilding year and be on the cusp of playoffs.
They had to settle not only a new coaching team but a host of new players, many of whom had little Super Rugby experience. Cruden took the gamble, though, having unbreakable faith in the coaching prowess of Rennie and the bigger vision of how he wanted to play.
"When you make a decision like that you never know what is going to happen," says Cruden. "As soon as I came in earlier in the year, the boys were hard at work and we set really high expectations for ourselves. We set really high standards and throughout the whole year we have been sticking to those.
"I suppose a lot of people didn't think we would be in the position we are now but we had self-belief in the group right from the start and it's only got stronger as the season has gone on."
There would seem only a remote prospect of the Chiefs repeating their lame final effort of 2009. There is a mental buoyancy and quality of personnel now that there wasn't back then. They also face an easier prospect regardless of last night's result: either the travel weary Sharks in Hamilton or a Stormers side in Cape Town that struggles to score points.
For Cruden, the opposition doesn't matter. He knows that in a final he'll have to nudge his side around, be the onboard computer and then back himself to run when the opportunity arises.
"When I first came on the scene my mind-set was to just attack, attack, attack," says Cruden. "Now I know the value of being able to control a game by putting the ball in the right areas. The forwards definitely thank you for that - putting the ball in front of them. I'm working pretty hard on that side of my game but I have a long way to go."