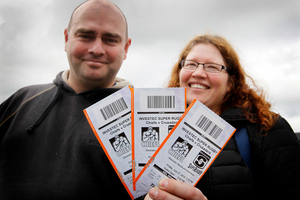 Peter and Annabel Winefield with their semifinal tickets. Photo / Christine Cornege
Chiefs fans eager to see their team go one further than the 2009 mauling they were dished out in the Super 14 final are quickly snapping up tickets for the Super 15 semifinal against the Crusaders.
Tickets went on sale early on Monday morning and by yesterday all of the covered seating at Waikato Stadium had been sold and the match was on the way to being completely sold out.
Last night tickets were available only for the stadium's Green Zone embankment behind the goalposts and for single seats in other areas of the ground.
Chiefs media manager Kylie Souza said: "Our last match against the Crusaders sold out and tickets for this are obviously going pretty quickly too.
"We don't say sold out until the match is sold out but the tickets are definitely selling."
The Chiefs have seen a 97 per cent resurgence in crowd attendances in 2012 compared with the average 8000 at their mainly rain-affected home games last year.
Among those to grab tickets were Peter and Annabel Winefield, who are back in the Waikato from their home in Kuala Lumpur where Mr Winefield works as a geologist for Shell.
The Tokoroa-born Mr Winefield said he had taken a close interest in his team despite living overseas for 17 years - including in Nigeria in 2009 when the Chiefs were thrashed 61-17 by the Bulls in the Super 14 final.
"We copped a bit of a hard time from the Bulls supporters who we were working with, they didn't let up and kept on at us about it," he said.
Mr Winefield said the Crusaders had finals pedigree but anyone who underestimated the Chiefs would do so at their peril.
His wife Annabel and two of their children, aged 14 and 12, will also be going to the match.
"You really notice the difference now with the Chiefs who seem to be a lot more confident than they were," said Mr Winefield.
"They play a good game of rugby and have been really good to watch this year."
The two teams go into tomorrow night's game locked at one game each - having met twice this year already, the latest match this month when the Crusaders came to Hamilton and won 28-21.
While the Chiefs' website confidently has their team as finalists against a yet-to-be-confirmed opponent on August 4, the TAB has the Crusaders as slight $1.62 favourites while the home side are paying $2.20 for the head-to-head win.
MetService duty forecaster John Law said weather for the match should be settled and fine with light winds.
Meanwhile, the public will have a chance to congratulate ANZ Championship winners, the Waikato Bay of Plenty Magic, when they return to Claudelands Arena in Hamilton for a special celebration event hosted by the city.
Hamilton Mayor Julie Hardaker said it would be exciting to have the team at the venue which hosted them during a number of their matches this season.
BIG EVENTS
Chiefs v Crusaders
* Waikato Stadium
* Kickoff: Tomorrow, 7.35pm
It's Magic
* Waikato-Bay of Plenty Magic special celebration
* Claudelands Arena
* Today, 3.30pm.