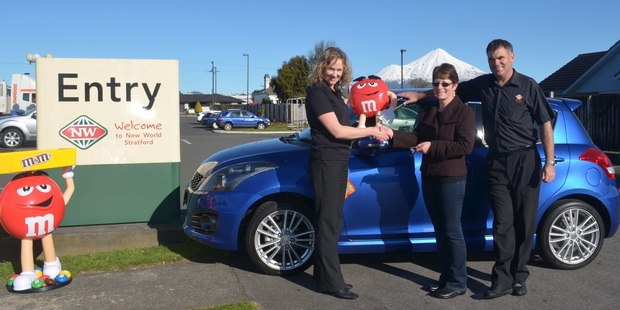 Heather Watts says she "couldn't believe it" when she received a phone call telling her that her purchase of a $2.45 mini canister of M&Ms had won her a brand new 2013 Suzuki Swift Sport 1.6.
Heather made her purchase at Stratford New World and, as always, swiped her Fly Buys card in doing so. It was the swiping of this card that entered her into the draw for one of three cars countrywide.
Area sales manager for Mars New Zealand, Karey Inia, says "it is always great to bring a big prize like this to a small town such as Stratford". She adds she always enjoys meeting the winners and gets great pleasure out of seeing local shoppers being rewarded for using their local stores.
Craig Waite, owner-operator of Stratford New World, says that once again this win shows the benefits in swiping a Fly Buys card when people shop at the store. Craig adds that he was "stoked" to hear that one of their shoppers had won the big prize, adding he thought the car was very nice.
"Often, if you hear of a car being won, it is the basic model, but this is really flash.
It has all the bells and whistles." Heather agrees, saying she had been saving for a new car as her current car is "due for retirement". Heather says she wants to thank all involved in all the prize, Mars New Zealand, Fly Buys and, of course, Stratford New World. "I do all my shopping there" she says, "and I always use my Fly Buys card".