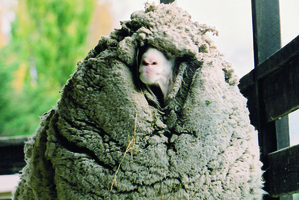 Since the death of celebrity sheep Shrek in June 2011, Queenstown taxidermist David Jacobs has been inundated with inquiries into the status of his most high-profile "client".
"Not since Phar Lap has there been so much interest in a piece of taxidermy," Mr Jacobs said.
"You can be in the pub and people can say 'How's Shrek going?' Everyone wants to know."
Mr Jacobs yesterday gave the Otago Daily Times an update on Shrek's journey from Bendigo Station to immortalisation.
After "lying in state" for a week to allow the Tarras community to say their final farewells, Shrek arrived at Mr Jacobs' studio last year wrapped in his much-photographed red and blue Icebreaker jacket and surrounded by flowers and farewell cards from Tarras School pupils.
The delay in getting him to the taxidermist and the insulation properties of merino wool posed an immediate problem.
"The decomposition was quite advanced and although he had recently been shorn, the risk of him losing the remainder of his wool and hence rendering him un-mountable was very high."
Shrek's jacket was removed and he was immediately frozen in a large walk-in freezer. He was later taken out to measure and record data for recreating his body and a "death mask" was made of his face to capture his expression. The entire process was recorded by a local documentary film-maker.
Shrek was then transported to Turner's Tannery in Leeston, Canterbury, for specialist removal of the hide and tanning. Shrek's condition meant Mr Jacobs had to delay making a mannequin of the merino's body until getting confirmation the hide could be preserved.
"There was no point in investing in that if the project wasn't doable."
Mr Jacobs was recently advised the tanning process had been successful, and once he receives the hide he will start the final mounting process, which involves sculpture of the mannequin.
"Essentially, this is Shrek without his clothes on, on to which the tanned skin will be sown back on."
The carcass would also be returned to him to make some final notes, before delivery to Invermay, Mosgiel, for cremation.
Josie Spillane, fundraising and business development director for Shrek's charity Cure Kids, said it was still to be decided where Shrek's final resting place would be, but one option under consideration was scattering his remains over Mt Cook.
A Te Papa spokesman confirmed yesterday the mounted version of Shrek would be displayed at the national museum, which faced stiff competition in acquiring the sheep.
"There was keen interest from regional museums from throughout New Zealand. The phone was ringing a bit red hot there for a while," Mr Jacobs said.