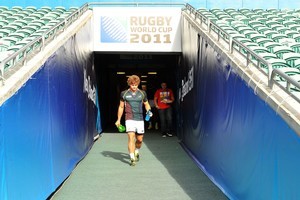 The youngest member of a Springbok squad famed for its experience and longevity, Pat Lambie could be forgiven for feeling homesick.
Asked yesterday what he missed most about South Africa as he prepared to play Australia in the quarter-finals of the World Cup, Lambie looked a little nonplussed: "Miss most about home? I'm not really missing home at the moment. This is way too exciting. I wouldn't want to be anywhere else, although on a day like today, I probably miss a little bit of warm weather."
Lambie was speaking on a dire day in Wellington, the skies greyer than the All Black jerseys and faces from the 2007 World Cup quarter-finals, the winds biting and the temperature sinking to about 10C.
The conditions made the Springboks' first training session of the week a little more interesting, to say the least. Although he will, in all likelihood, not be kicking at goal at the Cake Tin on Sunday, Morne Steyn complained that kicking was difficult in the stadium, and Lambie agreed.
"The wind swirls quite a bit, and even catching up-and-unders, and kicking out of hand and for posts is a little bit tricky because you can't tell which way the wind is blowing," said Lambie. "It's a bit gusty, too, so where you're standing to kick it might be completely still, and then when you kick the wind will come up and blow the ball completely off track."
Samoa threatened to blow the Springboks off track in their final Pool D match in Auckland last week. In the 57th minute Lambie made the tackle of the match, diving to his right to bring down David Lemi, saving a certain try and possibly the game.
"I sort of showed him the outside, and then was expecting him to step inside [off his right foot]. I was really relieved to get enough on him to bring him down. I don't know if it was [a match-saving tackle], but if they had got a score then it might have been a bit different and might have changed the game."
Modesty is the trademark of the Springboks, but so, too, is a palpable sense of confidence.
There has been much written and talked about the experience of the squad, and the calmness that comes from them, yet World Cup winner JP Pietersen, the maker of that famous tackle against Fiji in the 2007 quarter-final, said in the first week of the tournament that he wished he had some of Lambie's composure. Knockout rugby is nothing new to him.
"I played in the quarter-finals of the Super 15, and I played in the semifinal and the final of the Currie Cup, so I have a better view and understanding of what knockout rugby is about. I think it's about doing the basics, making the right decisions, being able to handle the pressure and being able to apply pressure," said Lambie, who was named man of the match for his role in the Absa Currie Cup final, scoring two tries, kicking 15 points and giving one Schalk Burger a big hand off.
"We're really going to have our work cut out for us this weekend. We are obviously going to have a lot of attacking kicks. We've seen the flair the Australian backline has and the gamebreakers that they have, so we'll have to work hard.
"Our workrate on and off the ball will have to be better than we have been before. I think that the fact it is a knockout game will have an influence on the way they play.
"Having those two tight games against Samoa and Wales was good preparation for knockout rugby. I can't see this game being a high-scoring one and I think the final score will be tight.
"The other two games were making sure that we stuck to our structures, wore them down and not get too loose. We were a little disappointed at how we played against Samoa at the weekend. We think we let ourselves down there, but we can learn a few lessons from that."
Lambie's parents arrive tonight, he thinks, and his goal, unspoken, mind you, is to celebrate his 21st birthday with them in Auckland on October 17 as part of a Bok team that has beaten Australia and the All Blacks to reach the World Cup final.
First, though, comes this weekend. His motivation is simple: "The thought that we may be going home on Monday is enough to switch everyone on."
Independent (SA)