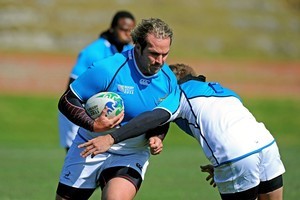 Jannie du Plessis's legs bounce and move at a thousand miles an hour when he is forced to sit still for more than a minute.
The doctor who props is a ball of energy, a big ball, that is, one with the shoulders of an ox and the demeanour of an excited youngster. This rugby lark is all fun.
Here is a man who had worked a late shift in a hospital in 2007 when he received the call to tell him he was needed to play as cover for BJ Botha, who had damaged his knee against the United States in Montpellier.
Seven days later he was in the starting line-up for the quarter-final against Fiji in Marseille after CJ van der Linde was injured.
On Sunday he is expected to start his second World Cup quarter-final, this time against the very different prospect of Australia.
He does not believe that the Wallabies pack are a soft touch after they were battered by Ireland after their loss in their pool match.
"It was very much the rub of the green. The Ireland pack played very well on the day, but maybe that gave the impression they were under pressure, but the Australian pack has played well for the last 18 months. They will be tough. They've been good for a while now. They put the All Blacks under pressure and that takes some doing," said du Plessis.
The South Africans need to cut the possession to the Wallaby backs at source, cutting off the supply to Will Genia and Quade Cooper. Digby Ioane is also on course to start, with James O'Connor and Kurtley Beale.
"At the end of the day it is up to us as a pack to ensure that we keep them busy so that Genia and Cooper do not get good ball. Those players can win the game by themselves, so there are more aspects to our job as a pack than just scrumming. We need to cut down their space to put them under pressure.
"As a tight forward that is the most daunting thing. When you play against Australia you know that once or twice you are going to have to defend against a guy like Quade Cooper, who can beat any backline player any day, and also against a guy like Will Genia, who can break the line and get the pass away.
"You get sleepless nights because of things like that. We've got a big pack in terms of mobility, so it's something we are constantly going to think about during the week.
"You have to believe in your systems. People are going to miss tackles. There has never been a rugby game where someone has not missed a tackle. I think the secret to successful defence is believing that your system will cover those mistakes, that there will be a guy to cover for you, so that if, say, you ankle-tap him, there will be someone to bring him down. That comes to the fact in a team that knows each other well."
- Independent