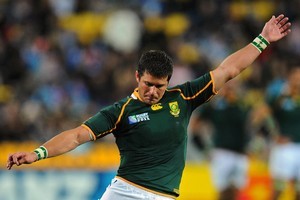 South Africa aren't about to get bogged down in what Samoa will bring to the Rugby World Cup table tonight.
Their view is focused inward; follow their script, play well and the rest will take care of itself is the gist of it.
South Africa have conceded fewer points - 19 - than any other team thus far and are building nicely in defence of their title.
"We have to try and concentrate on our strengths, try to determine the outcome of the game on our abilities and what we're looking to do," assistant coach Gary Gold said yesterday.
"If we get too caught up in terms of what the opposition is looking to do, then quite literally we'll take our eye off the ball."
In any case, South Africa have a pretty fair idea of what to expect at North Harbour Stadium tonight: it will be robust and bruising, but this time Samoa will ally those qualities with a better sense of organisation.
Bryan Habana vividly remembers the opening quarter against Samoa in Paris four years ago, before the South Africans ran away 59-7.
"The first 20 minutes was some of the toughest test rugby I've played," the champion winger said yesterday. "This will be no different. Samoa have a lot of players playing in European leagues and that's seen them become a much improved side to what they were in 2007.
"They're going to lay down a big challenge, not only physically but in their structure as well."
The permutations are simple, but could finish up rather complex should Samoa win tonight.
The easy part? Samoa must win, end of. Fail to do that and they're going home, barring the unlikely event of Fiji beating Wales in Hamilton on Sunday, and the Samoans grabbing a bonus point.
Should Wales beat Fiji and with a bonus point, it would leave the South Africans needing just a bonus point tonight to go through.
But if by some curious happenstance all three finish on 14 points, then it comes down to the tiebreakers.
Enough of that; South Africa should win with a measure of comfort tonight.
Samoa, as is the lot of those teams not in the favoured few, are playing after just four clear days since beating Fiji.
The Springboks have had seven days R and R down in Taupo since skinning Namibia 87-0.
Even allowing for their advantages in player quality, that would seem to have made the hurdle too high for Samoa.
"You can't go half-hearted," Samoa's captain Mahonri Schwalger said. "You can't have the attitude that you're going to come second."
So the sleeves will be rolled up, the pre-kickoff siva tau will be infused with an extra dollop of fizz and Samoa will throw themselves into the contest.
Senior lock Victor Matfield returns for his first game since straining a hamstring against Wales on September 11 and will lead the Springboks in John Smit's absence.
Frans Steyn stays at second five-eighths as Jean de Villiers' return from bruised ribs begins off the bench. Asked yesterday how he felt about sitting in the "suicide seat" against the Samoans, Steyn quipped: "Just wish me good luck, and pray for me."
Samoa last night were still awaiting a clearance on flanker Maurie Fa'avasalu, who took a knock to the head against Fiji.
When they beat Australia in Sydney shortly before the cup began, the Samoans put the wind up the Wallabies with real bruising intimidation. That won't work against a team who lick their lips at the prospect of the rugged stuff.
Samoa must get burly wing Alesana Tuilagi into the game, and might opt to take experienced centre Seilala Mapusua's view on board - "We need to go all out, try to get as far away from structured rugby as possible; we need to break it up a bit".
Biffing the ball about, throwing caution to the winds won't do the trick on its own tonight. One of the laments of the Pacific Islanders at this cup has been their more buttoned-down approach. It's a sign of maturity, one player opined, but at what cost?
Getting the mix right is the key. A maiden win over the Springboks would be a famous occasion. It might also be a stretch tonight.
Springboks v Samoa
North Harbour Stadium, 8.30 tonight
Patrick Lambie
JP Pietersen
Jaque Fourie
Frans Steyn
Bryan Habana
Morne Steyn
Fourie du Preez
Pierre Spies
Schalk Burger
Heinrich Brussow
Victor Matfield (c)
Danie Rossouw
Jannie du Plessis
B. du Plessis
Tendai Mtawarira
South Africa: John Smit, Gurthro Steenkamp, CJ van der Linde, Willem Alberts, Francois Louw, Francois Hougaard, Jean de Villiers.
Samoa
Paul Williams
David Lemi
Seilala Mapusua
E. F.Sapolu
Alesana Tuilagi
Tusi Pisi
Kahn Fotuali'i
George Stowers
Maurie Fa'asavalu
Taiasina Tuifu'a
Kane Thompson
Daniel Leo
Census Johnston
M. Schwalger (c)
Sakaria Taulafo
Samoa: Ole Avei, Anthony Perenise, Logovi'i Mulipola, Ofisa Treviranus, Filipo Levi, Junior Poluleuligaga, George Pisi.
Referee: Nigel Owens (Wales).