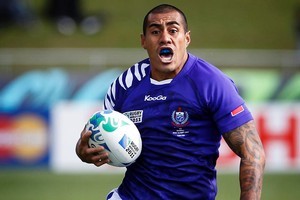 The Boks have been doing a good job of talking up Samoa, their opponents on Friday in a Rugby World Cup final-round Pool D match, but in reality there should be only one winner, and this was corroborated at Eden Park on Sunday when sluggish Samoa struggled to a 27-7 win over a poor Fiji team.
The Samoans have been choosing structure over their traditional flair at this World Cup, probably because most of their players are based in Europe, and while this helped them squeeze the life out of their Island neighbours, it will play into the hands of the Springboks.
Nobody does structure and arm-wrestling better than the South Africans and they will be pleased if the Samoans continue with the same approach because they are more of a handful when they play their wide game and get maximum use out of their powerful wingers.
There was an amusing and revealing comment from Samoa first five-eighths Tusi Pisi, who kicked 15 points: "We did not want to get stuck playing jungle rugby and had to keep to our structures.
It was good to grind out a win, not just for ourselves and our families, but for our communities as well."
Pisi added: "As a collective, we can probably improve on some things that didn't go so well today, but a win is a win and in a World Cup that's all that matters."
That could well have been a Springbok talking, and it is indicative of the relatively conservative road Samoa have chosen to go down in this World Cup in their bid to qualify for the quarter-finals and, at worst, finish third in thewir group, thus avoid having to qualify for the 2015 World Cup.
While the Boks have had their feet up and their fishing rods out since beating Namibia last Thursday, Samoa have just four days to recover before playing their toughest pool match - half the time of the South Africans and it is the fate of all the teams that had to qualify for the tournament. The teams that earned automatic qualification have the luxury of longer turnarounds.
The Springbok camp has been deathly quiet for the last few days after the players were given a mid-tournament sabbatical. Many of their partners have joined them from South Africa and they made the most of the break from all rugby activity to venture into the countryside and see New Zealand. They regroup this morning to prepare for what is effectively a warm-up match for a probable curtain-raiser against Australia, who funnily enough lost to Samoa in Sydney in July.
Do the Samoans believe they can beat the Springboks on Friday?
Their Australian assistant coach Brian McLean said: "Absolutely we do. We've come into this tournament with a goal and we knew we had to beat either South Africa or Wales ... we will be doing everything in our powers to try and beat South Africa."
SPRINGBOKS v SAMOA
North Harbour Stadium, 8.30pm, Friday
- INDEPENDENT