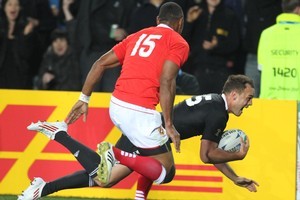 Jersey row I
If you think adidas had some problems here, what with getting caught out with their hands in our wallets, spare a thought for the South African Rugby Union.
Member of Parliament Joe Mcgluwa is refusing to wear the Bokke kit. "It's disgraceful that the South African Rugby Union has outsourced the manufacturing of the official replica Springbok gear to a Chinese company," said Joe.
Hey Joe, we're with you.
Jersey row II
Rushing to the Bokke defence was Fikele Mbalula, the Sports Minister.
"I wish to advise the Springbok team not to listen to any of the prophets of doom here, and back at home," Mbalula told the team.
"Those self-seeking Johnny-come-latelys who were not there when you played test and Tri-Nations rugby; those recalcitrant, pessimistic cowards who, when faced with challenges, stuck their heads in the sand like ostriches and did nothing to support the team!"
Mbalula took a shot at the South African Textile Workers Union for their part in the jersey row.
"This is not a space for debate but an arena of battle to conquer the world. Go out there and enjoy a good game of rugby.
His final, cool-headed word: "Motherland or death! We shall win! Nkosi! Baie dankie! Siyabonga!"
Go on Murray McCully, top that.
Fighting talk
Jonah Lomu, on his (surely comical) offer to enter the ring with Sonny Bill Williams: "It's a touchy subject but the offer is still there with his manager."
The big man is a little riled by SBW's cold shoulder. "For him to say I had no credibility and then fight somebody on the sick [Williams ended up fighting the unimpressive Alipate Liava'a from Tonga who, it transpired, was on sickness benefit at the time], well that's one sure way of f***ing me off. I want to get him in a boxing ring one day.
"If he steps in the ring with me he'll do so at his peril. I might not be a boxer as such, but I know the sport and I can fight. If you hit me, I'll hit you back so hard you'll wish you hadn't."
Scots feeling the heat
Another success story for Scottish RWC planning: News comes to light that the thistle-dodgers, who were the last team to arrive in New Zealand, had been acclimatising in Brisbane.
Average temperature high for September in Brisbane: 24C
Average temperature high for September in Invercargill: 12.9C
Of course, pretty much anywhere seems glamorous and tropical compared to a Caledonian summer.
Quote of the week
The Tongan manager, after his team's lengthy haul to the airport, was faced with demands from the media and RWC officials that the coach and players front up for a press conference. Clearly, the press didn't understand how hard it was for the carb-starved footy players.
The manager wailed: "These guys haven't eaten for four hours!"
The PDV file
Another gem from the Springbok coach: "There is little difference between winning and losing except you feel better after winning."