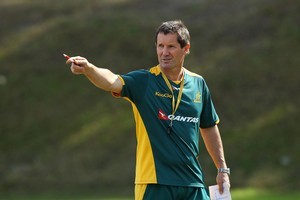 As if the heat wasn't already on, Robbie Deans has advised his humbled Wallabies they will be playing for their World Cup lives in Sunday's Tri-Nations clash with the Springboks in Durban.
Still smarting from Saturday's listless loss to the All Blacks, Deans said there were "still a lot of conversations going on" between himself and fellow selectors Jim Williams and David Nucifora heading into Australia's last test before a 30-man World Cup squad is announced on Thursday week.
Asked if any players could play their way into or out of the World Cup squad at King's Park, Deans said: "Oh, without a doubt.
"It's not resolved ... we know them all pretty well by now but, when it comes down to the last couple of positions, they're quite key."
With Deans giving recovering big guns Drew Mitchell, Rob Horne, Wycliff Palu, James Slipper, Tatafu Polota-Nau and Benn Robinson every opportunity to prove their fitness, prop Ben Alexander admitted he could sense the pressure building.
"Everyone's trying to keep pretty relaxed but at training there's a definite edge," Alexander said. "We've got some really, really good players who aren't getting a run at the moment so blokes that don't perform on Saturdays are going to find themselves not there next Saturday.
"Everyone's been aware for ages. Obviously not everyone gets a chance on Saturdays but blokes get to put their hand up consistently with how they carry themselves about the hotel, about the team environment and how they perform at training.
"All that goes a long way towards getting selected."
Mitchell (ankle), Horne (elbow), Palu (knee), Slipper (ankle), Polota-Nau (knee) and Robinson (knee) are all likely to make playing returns for the Australian Barbarians against Canada on the Gold Coast at the weekend after the World Cup squad is announced.
Deans is assuming all will be available for the World Cup.
But with only a four-hour window between arriving back in Sydney and sitting down to finalise the squad before its August 18 release, the Wallabies brains trust is going to extraordinary lengths to monitor its rehabilitating stars from the other side of the Southern Hemisphere.
"We're maintaining contact with them to make sure they use their BlackBerry playbooks to record everything they do and they're sending clips of those across," Deans said. "I told them to send their best clips to me and their worst clips to the medical staff.
"We'll have some decisions to make, but we're just making sure that we're fully armed.
"We're getting footage, we're getting GPS numbers, so we're seeing what work they're doing and we're also monitoring their state so that we're fully informed and, between their status and our status, we'll make a decision."
- AAP