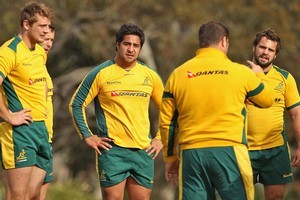 The Springboks are talking the talk but the Wallabies have vowed to walk the walk in Saturday night's Tri Nations Test at ANZ Stadium.
Sydney's big wet threatens to prove a real leveller, with the understrength Springboks - hungry to silence the doubters - believing "anything can happen in weather like this".
But returning stars Will Genia and David Pocock say Sunday's humiliating loss to Samoa has stung the Wallabies and left them ready for anything the unfancied Springboks throw up.
"They can say what they're going to do but they have to execute and we feel like we can exert pressure on them, not just through our attack but through our defence as well," Genia said on Thursday.
"Hopefully, we can stifle their attack and we're confident that when we have the ball in hand - with the players that we have - that we can score points."
Pocock, who has recovered from a foot complaint that rendered the classy flanker unavailable for the season-opening clash with Samoa, said the Wallabies are well aware of South Africa's threats to starve Australia of possession.
"That's definitely something we've talked about and something that we've got to focus on," he said.
"That's definitely the first aspect that we have to match them, is the physicality around the breakdown, and obviously to deal with their big runners coming around the corner.
"We've done a lot at training to turn things around from last weekend and I think it's also a big mindset thing - meeting them in that physical battle.
"Everyone knows when you play South Africa you've got to be up for it. Otherwise, it's going to be a hard day at the office."
Torrential rain this week has left both camps seeking shelter but, while the Wallabies braved the elements on Thursday and trained as usual, the Springboks had an indoor session at Sydney Boys' High.
"We've been together for three weeks, so one or two training sessions indoor I don't think is going to make that big of a deal,'' Springboks' centre Wynand Olivier said.
"The rain shouldn't bother us. It might have a bit of an influence - the ball's slippery and it's difficult to play in the rain - but anything can happen in weather like this."
Genia said "there's bigger things to worry about and focus on" than the unpleasant weather and that the Wallabies are hoping to take advantage of the testing conditions.
"We'll be ready for it," he said.
"I mean, it will obviously change things. It's a lot easier, when it's raining, to obviously just turn them around and put it into the corners and try and put pressure on them that way.
"You can't obviously throw the ball around as much as you can when it's dry. So we might have to tighten up a little bit as well and we'll just adjust on the night."
Pocock said the wet conditions serve as useful preparation for the Rugby World Cup in New Zealand in September-October.
"Obviously, it'll be good I think in the long term as far as preparation goes," he said.
"And good for the side in general to be able to play in whatever conditions and be able to adjust to a different sort of game style based on what's in front of you."
- AAP