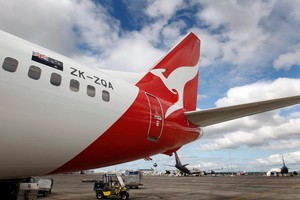 The South African rugby team has joked about a scary mid-flight incident that forced them back to Johannesburg's OR Tambo airport yesterday when an engine overheated.
The Qantas Boeing 747 to Sydney had to turn back an hour into the flight after one of the four engines was shut down by the pilot when it experienced an increase in vibration and temperature.
"The aircraft has four engines and can safely fly on three engines," a Qantas spokesman said. "There was no issue with safety and media reports that there was an explosion are incorrect."
Certainly, the South Africans seemed fine about it, assistant coach Gary Gold showing a humorous touch through his Twitter phone account.
"Irony that there is a petrol strike in Johannesburg and we just dumped 65 tons of fuel to land."
Springbok captain and hooker John Smit also described the experience on Twitter.
"Wow, just had to do an emergency landing at OR Tambo," he tweeted. "We lost an engine after take-off but safely landed now!"
SARU spokesman Andy Colquhoun added that all 28 players and the officials were fine.
The team was heading to play the opening fixture of the Tri-Nations competition next Saturday before playing in New Zealand the week after.
Qantas is a sponsor of the Wallabies.