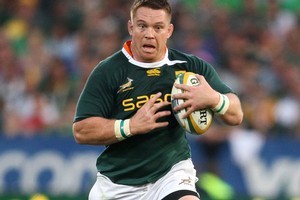 It all began 11 long years ago, in a minor international match against Canada.
But when John Smit leads South Africa out against Australia in Sydney next Saturday, he will win his 103rd test cap and enhance his status as a rugby legend.
Smit has been a wonderful, loyal and consistent servant of South African rugby.
He has done it the hard way, operating at the coal face where no slackers or fancy dans can survive.
Smit has done the hard yards over 11 long years of test match rugby and he deserves immense respect and praise for his longevity and quality as a player.
But take a look at some of Smit's fellow tourists and possible teammates for next Saturday's opening Tri-Nations encounter of 2011 and you quickly understand that this is far from a normal scenario.
With all due respect to players such as Dean Greyling, Alastair Hargreaves, Jean Deysel, Elton Jantjies and Deon Stegmann, this squad is closer to forming a South Africa 'C' team, than the usual top quality outfit.
Yet fans in Australia and New Zealand will be asked to pay good money to watch what would be better described as a South African Combined Super 15 side.
Taking money under false pretences? You probably couldn't go that far because supporters buying tickets in the next two weeks must know what to expect.
And the New Zealand rugby public are a wily lot. The NZRU admits that it is struggling to sell tickets for the All Blacks' opening test fixture of the year against Fiji on Friday. So far, only 10,000 of the 28,000 tickets available at Carisbrook have been sold.
It may not be a lot easier for the test against the Springboks at Wellington on July 30. Almost the entire first choice Springbok pack won't be there. Many of the backs are staying at home, too.
So who is to blame? Is it the organisers of the Super 15 who so elongated their tournament this year despite the presence of a World Cup in September? Is it the players or their agents? Or is it Springbok coach Peter de Villiers?
The answer is, none of them.
The guilty ones are the television companies that insist on sub-standard games going ahead a few weeks before a World Cup begins. That is madness in anyone's language except the commercial companies desperate for revenue and live sport action to fill their schedules. No matter that the product will be grossly inferior.
As for de Villiers, his judgment should be saluted.
He is 100 per cent correct to have left at home players who will be key performers at the World Cup. It was a brave decision and it was the right decision with the Springbok's World Cup chances in mind.
What on earth good would it have done to force weary, senior players like Victor Matfield, Bakkies Botha, Fourie du Preez, Bismarck and Jannie du Plessis, Pierre Spies, Jean de Villiers and Bryan Habana to make another long trip to Australasia?
Most of this year's Tri-Nations are a complete irrelevance and the Springbok coach knows it, even if he cannot say so publicly. He has given it the small focus it fully deserves.
After all, neither de Villiers nor his players will be judged on the Tri-Nations. It is the World Cup that matters most this year.
* Peter Bills is a rugby writer for Independent News & Media in London