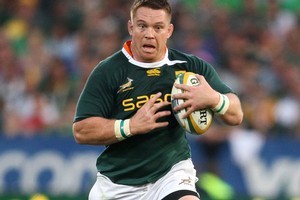 The Springboks who run out against the All Blacks in Wellington on July 30 will be a rum-looking lot.
As a consequence of the 21 injuries that Boks coach Peter de Villiers claims are affecting his selections, it is likely only John Smit and first five Morne Steyn will be readily recognisable to New Zealand fans. Crack No 8 Pierre Spies is a puzzling omission after not being named in the 21 injured.
Arguably, even Smit may not be a first choice Bok these days, as de Villiers wrestles with a way he can play the South Africans' talismanic leader. Smit is ranked behind Bismarck du Plessis as a hooker and playing him as a prop in last year's Super 14 was not a success.
The squad of 27 announced yesterday contains six new caps and seems to reward Super Rugby form.
Promising Sharks first five-eighths Patrick Lambie is a debutant, as is another first five in the Lions' Elton Jantjes, halfback Charl McLeod (Sharks), bustling loose forward Ashley Johnson (Cheetahs) and props Coenie Oosthuizen (Cheetahs), Werner Kruger (Bulls) and Dean Greyling (Bulls).
There is still more than a smattering of experience. Elusive backs Gio Aplon and Juan de Jongh are noted attackers and they join up with other talents like Bjorn Basson, Odwa Ndungane, Sharks speedster Lwazi Mvovo and clever halfback-first five-goalkicker Ruan Pienaar. Smit, the most capped international captain in test rugby, will win his 103rd cap against Australia in Sydney on July 23, before the Boks arrive in Wellington.
However, it is in the forwards that the Boks look well undercooked. Only lock/loose forward Danie Rossouw, flanker Heinrich Brussow, No8 Ryan Kankowski, lock Johan Muller (23 caps, the last in 2009 and who is now playing at Ulster, like Pienaar) and back-up hooker Chiliboy Rapelle have anything like a Bok record of more than a few tests.
The full squad for Australia and New Zealand is as follows:
Backs: Gio Aplon, Bjorn Basson, Juan de Jongh, Adrian Jacobs, Elton Jantjies, Patrick Lambie, Charl McLeod, Lwazi Mvovo, Odwa Ndungane, Wynand Olivier, Ruan Pienaar, Morne Steyn.
Forwards: Heinrich Brssow, Jean Deysel, Dean Greyling, Alistair Hargreaves, Ryan Kankowski, Werner Kruger, Ashley Johnson, Johan Muller, Coenie Oosthuizen, Chiliboy Ralepelle, Danie Rossouw, John Smit, Deon Stegmann, Adriaan Strauss, Flip van der Merwe.
Now compare that squad to this one - 21 leading players described as injured; who could form a powerful and substantial team on their own.
Hooker: Bismarck du Plessis.
Props: Tendai Mtawarira; Gurthro Steenkamp.
Locks: Victor Matfield, Bakkies Botha.
Loose forwards: Schalk Burger, Juan Smith, Francois Louw.
Halfback: Fourie du Preez.
First five: Butch James.
Centres: Jean de Villiers, Jaque Fourie.
Wings: Bryan Habana, Francois Hougaard.
Fullback: Frans Steyn.
Reserves: BJ Botha, Jannie du Plessis, Andries Bekker, Duane Vermuelen, Willem Alberts, JP Pietersen.
That is maybe one or two players off a first-choice Bok test team and about two backs short of an adequate bench - but it is so close to the Springbok vanguard that the selection drew an outraged response from Australia.
Many observers accused de Villiers of apeing the tactic of World Cup-winning coach Jake White in 2007 - when he sent a weakened squad away on Tri Nations duty. The ultimate justification was, of course, that the Boks won the World Cup that year.
Sanzar countries now have an agreement supposedly ensuring they do not damage any of its competitions through fielding weakened teams. ARU chief executive John O'Neill said he had called on Sanzar's chief executive officer Greg Peters to investigate.
"The difference between 2007 and now is that we now have a permanent Sanzar office with a CEO, who has the job of monitoring and policing such matters," O'Neill told the Sydney Morning Herald. "He [Peters] will be following up on this announcement.
"We have a joint venture agreement and a broadcasting agreement, and it is important that the three countries don't just comply with the letter of the law, but also the spirit of the contract. Joint ventures rely on people acting honourably and consistently."
O'Neill said he was surprised at the extent of the Springbok injury list: "We're not in a position to second-guess the Springboks, and we also have our share of injured players. But it is nowhere near 21. The sheer size of the number of players who are injured is unusual," he continued.
There is no doubt that this has been a long Super Rugby season littered with injury - even though the number and identity of those injured will bring out cynics aplenty. It is another demonstration that the top-level competition in the Southern Hemisphere has again been sacrificed on the altar of World Cup expediency.
Some could claim the All Blacks did something similar with their rotation policy of 2007 but de Villiers and other South African rugby sources claimed no foul had been committed. They said a number of players had been put on intense rehabilitation programmes, following medical assessments.
Team doctor Craig Roberts, said at a Cape Town press conference that several players faced a race against time to be fit for the Tri Nations but that no one had been ruled out of contention for selection for the Rugby World Cup.
"Schalk Burger and Duane Vermeulen recently sustained serious injuries and will definitely not be ready to take part but we're hopeful that others who have had long-term injuries, such as Juan Smith, Heinrich Brussow and Gurthro Steenkamp, may be available at some point in the series," he said. "There are a number of other players who have been playing through Super Rugby with chronic injuries and need rehabilitation now to avoid the risk of breaking down with longer-term injuries in the near future."
If you're feeling a Tui billboard coming on, Andy Marinos, manager of national teams for the South African Rugby Union, said the medical team had taken a pragmatic approach to what is an intense international season.
"Some players have had a huge amount of rugby and it shows in the wear and tear on their bodies," said Marinos. "We're treating them on an individual basis to make sure they are fully fit to peak at the right times this year."
De Villiers maintained there was still a solid core in the touring squad: "Although the injury situation has also been critical. But there is a backbone of experience and it means that all our leading players will receive test exposure this year."
This will be a credibility test for Sanzar and Peters but it is difficult to see what can be done. Forcing injured players to play does not seem a practical solution and fines seem like a wet bus ticket punishment. Yet Sanzar rules are clear - deliberate liberties with selection is not supposed to be tolerated.
De Villiers, maybe for that reason, took pains to stress the personal risk to himself when announcing the squad; insisting it was not a planned move.
"I'm in a difficult position, too, because I want to win every test and my contract is coming up for renewal," said de Villiers this week. "I was very disappointed when I saw the extent of the injuries and [that] as a result our leadership group is very thin and that in itself can cause some problems."
De Villiers said he was confident, even with a severely depleted squad.
"This is not what I expected but I must be positive. I must bring it across to the guys that I'm very positive. The situation will call for a different way of preparing and we started in training today in a way that we can get those guys [the replacements] up to speed."
De Villiers said the longer Super Rugby season had seen injuries: "I'm not blaming anybody. We always knew that after such a long competition someone had to pay the penalty."
Seems like it will be those with tickets to the test in Wellington.