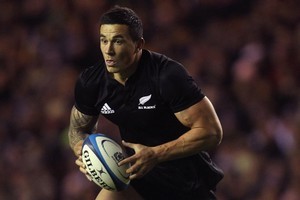 So Stephen Hawking goes to a party. He introduces himself to the first person he sees and asks what his IQ is.
The man says: "180". Hawking says: "That's great, we must talk about theoretical physics." He moves on to another man and asks the same question. "140," comes the answer. "Wonderful, we must chat about the mysteries of the universe."
He moves on to a third partygoer and asks the IQ question again. "54," the third man responds. Hawking says: "Ah, why haven't you replaced John Smit as captain, Peter?"
The Springbok coach's unfortunate public persona means that Peter de Villiers is often satirised and scorned. His latest pronouncement (effectively that Sonny Bill Williams' game-breaking offloads are a bad example for youngsters) underlined the point. It may have escaped the attention of a few rugby fans (those living under rocks or in caves, maybe) that Williams is the single most interesting development in rugby since Jonah Lomu; that his attacking ability may rewrite the manuals.
His effectiveness at linking with team-mates even as he is stopped in a tackle has transfixed defence coaches all over the globe. Rugby's defensive lines are structured, almost geometric things. If someone like Sonny Bill comes along and makes spaghetti out of the structure, all hell can break loose.
Williams has so impressed already - forgetting some critics' bleats that he is too injury-prone and the boring drone about being allowed to box - that many Kiwis have revised their opinion that he is an "impact" player; that the All Blacks should start Ma'a Nonu and bring on Williams to terrorise tiring defences. Williams' distribution skills, low error rate and improving defensive ability have made him look a starter rather than a sub.
So Poor Old Pete's pronouncements on Sonny Bill ("He is doing everything wrong what rugby principles require of you in the game" [sic] and that Williams would be "found out" in the higher levels of the code) helped perceptions of him as some puzzled old darling dragged in off the street and told: "Here, you're black, aren't you? Have a Springbok team."
However, we shouldn't immediately assume that, because "Div" occasionally sounds like a real Angus (the 'g' is silent), he and the Boks won't know what they are doing.
De Villiers has raised the most fascinating aspect of the coming Tri Nations series and then the World Cup: how will the All Blacks use Williams; how will he perform; and how will other sides stop him?
There is no certainty yet that Williams is the man - his injuries and two or three quiet games recently have seen to that. There was also a significant moment in the Highlanders' upset victory over the Crusaders some weeks back. Williams was on the bench as an over-rotated Crusaders team struggled to produce their normal penetration and control.
When he was subbed on, the smothering, energised defence ate Williams up. They tackled him two at a time for the most part - one high, one low, a la rugby league. Williams' offloads diminished; his error rate increased.
The key, however, was that the Highlanders had neutralised the Crusaders' forwards. They attacked them at the breakdown, stopping the flow and rhythm of the Crusaders' pattern and go-forward. Williams, consequently had less time and room.
That will not have escaped the notice of coaches everywhere, including and perhaps especially in South Africa. Just because "Div" sounds like he left his brain at a braai, doesn't mean he can't have a go, bless him, at psychological warfare. It certainly doesn't mean the Boks won't know a sausage from a soup spoon.
The South Africans, whether by accident or de Villiers, renounced their ill-fated flirtation with "progressive rugby" (translation: they tried to play like the All Blacks) and have since stuck to the conservative, no-frills, defence-based rugby that usually wins World Cups.
That explains the selection of Smit as captain and the likely preservation of all the Bok old hands as they try to defend their 2007 World Cup. It also explains de Villiers' delving back into the days of World Cup-winning coach Jake White.
"Div" is consigning himself more into the background so he doesn't come out with so many clangers; allowing his players to concentrate on the task rather than having to worry about the coach's next involuntary verbal vomit. So now de Villiers is looking more White than White in terms of a conservative approach and steadfast loyalty to experienced players.
The only question is whether 'experienced' might turn into 'exposed'. Smit is a huge influence but may not even be able to get in the first XV. That could be of little consequence, given that the All Blacks boast a World Cup won without their chosen captain (Andy Dalton, 1987) setting foot on the field.
The way the World Cup draw is structured, New Zealand and South Africa will likely not meet until the semifinals. The Bokkies will be thinking all they have to do is smother the All Blacks and Williams for one game - and then they are in the final; just like, in 1995, they contained Lomu in that final.
Of course, the All Blacks are not without other attackers. Devoting defensive resources to Williams will increase the pressure elsewhere. The Wallabies face the same issue - but have some attacking abilities of their own to throw into the pot.
Fascinating stuff. Can't wait.There is some buzz about that Stephen Donald has already been selected as Dan Carter's deputy for the World Cup. If so, the joke about Stephen Hawking and Peter de Villiers can be amended to read Stephen Hawking and Graham Henry and the punchline would be: "Ah, Graham. Why did you select Donald?"