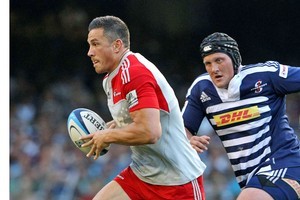 Outspoken Springboks coach Peter de Villiers is at it again - this time blasting Sonny Bill Williams' style of play as a bad example to aspiring young players.
Williams starred again in the Crusaders' emphatic 20-14 win over the Stormers in South Africa, providing a magical one-handed offload for Sean Maitland to open the scoring.
However, de Villiers told South Africa's online magazine Union Sports Mag that he hoped Williams "matures in his game."
"He is doing everything wrong what rugby principles (requires) of you in the game."
"I mean back-hand passes shouldn't be the norm. It has become the norm, now everybody wants to do those kinds of nonsense and they forget about the basic principles of the game."
De Villiers admitted the flamboyance is warranted when executed well, but said Williams will be found out at a higher level of play.
"Last week he made four mistakes with those kind of non-rugby stuff that he is doing. Well, if it comes off it's brilliant, but do you have control over those kinds of things?"
"If you get into international level where people work you out so easy, then you have to be in control of what you are doing."
The Springboks coach also suggested that youngsters watching Super Rugby will want to replicate the famous Williams-style offload at the expense of developing basic rugby techniques.
"He will spend hours and hours on the things that are not important and never master the most important things of rugby."
When pressed as to whether he has worked Williams out, De Villiers responded:
"Yeah, at this moment... If you close down his spaces, if you put pressure on him, and if you hit him hard, if you don't dance around with him like he does then there's no way..."
- HERALD ONLINE