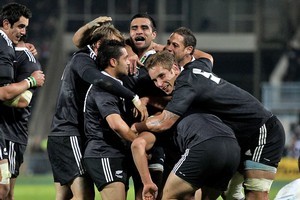 The New Zealand Maori rugby side is in line to play a historic series in South Africa later this year.
Rugby News reports the Maori will play two matches against a "shadow" Springbok side after the World Cup.
The matches will be part of the benefit for Bakkies Botha and Victor Matfield, who will represent the Springboks for the last time.
One of the fixtures is expected to be played in Soweto while the other will take place in either Cape Town or Pretoria.
The South African Rugby Union paved the way for the fixtures last year after apologising to New Zealand Maori for the disservice done to them in the past.
Talks took place between the two nations about the Maori playing the Springboks in Soweto in 2009, as a build-up to 2010's British and Irish Lions tour of the Republic.
Plans were shelved because SARU said the Maori were selected on racial lines.
The NZRU also approached SARU last year about the possibility of a South Africa team playing the Maori during their centenary celebrations but were told it couldn't happen for the same reason.
However on December 4 the SARU amended their rules, opening up the possibility of a game, or even a tour, in the near future.
"The [General] Council agreed to adopt the policy pertaining to the New Zealand Maori, which now paves the way for matches between South African teams and the Maoris [sic]," SARU said in a statement.
SARU president Oregan Hoskins added: "South Africa will play against any team which has the official blessing of its national governing body."
The change came on the back of a surprise apology last year made to Maori players prevented from touring South Africa with the All Blacks in 1928, 1949 and 1960.
The Maori played the Springboks when they toured New Zealand in 1921, 1956, 1965 and 1981. A Maori team also played a pre-season tournament in South Africa in 1994.
- NEWSTALK ZB/HERALD ON SUNDAY