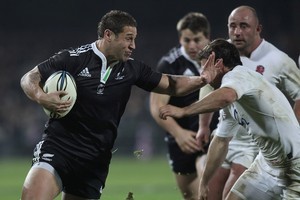 The South African Rugby Union have finally opened the way for games to be played against the New Zealand Maori after amending a post-apartheid policy that prevented games against racially-selected sides.
Talks took place between the two nations about the Maori playing the Springboks in Soweto in 2009, as a build-up to last year's British and Irish Lions tour of the Republic. Plans were shelved because SARU said the Maori were selected on racial lines.
The NZRU also approached SARU this year about the possibility of a South Africa team playing the Maori during their centenary celebrations but were told it couldn't happen for the same reason.
But yesterday SARU amended their rules, opening up the possibility of a game, or even a tour, in the near future.
"The [General] Council agreed to adopt the policy pertaining to the New Zealand Maori, which now paves the way for matches between South African teams and the Maoris [sic]," SARU said in a statement.
SARU president Oregan Hoskins added: "South Africa will play against any team which has the official blessing of its national governing body."
The change comes on the back of a surprise apology this year made to Maori players prevented from touring South Africa with the All Blacks in 1928, 1949 and 1960.
They also issued an apology to black players in South Africa who were discriminated against by the apartheid-era rugby administration.
NZRU general manager of professional rugby Neil Sorenson said they hadn't received official confirmation yet from SARU but he was delighted with the turnaround.
"It's great news," he said. "Most New Zealanders celebrate the Maori side. It's a special side and reflects what New Zealand is about.
"I think most people both here and in South Africa would be excited about the possibility of a New Zealand Maori side in South Africa sometime in the near future. It's obviously not likely to happen next year because of the World Cup but we will get on the phones this week to see when this could happen.
"It's more logical for the Maori to tour South Africa rather than for South Africa to play them here during a Tri Nations."
The New Zealand Maori, who were coached by new Highlanders coach Jamie Joseph, celebrated their centenary this year with wins over England, Ireland and a New Zealand Barbarians outfit. They were inactive in 2009.
The issue of Maori games against South African teams has long been a contentious one.
When New Zealand refused to send a whites-only team to the Republic in 1967, South Africa cancelled the tour. South Africa finally relented in 1970, when three Maori and a Samoan in the All Blacks were considered "honorary whites".
The Maori played the Springboks when they toured New Zealand in 1921, 1956, 1965 and 1981. A Maori team also played a pre-season tournament in South Africa in 1994.
- Additional reporting AP