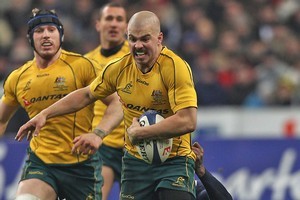 Australia thrashed France on Sunday, capping off a good weekend for southern hemisphere sides. Photo / Getty Images
This was another weekend, another slaughter for the northern hemisphere rugby nations. A weary off-coloured All Blacks still scored five tries in a 37-25 win against Wales in Cardiff.
The Australians amassed 59 against France in Paris and scored seven tries to one in the process. And the Springboks smashed England's challenge in a 21-11 score that flattered the home team.
Fourteen tries to three: plus ca change etc. Can the northern hemisphere's discredited rugby nations do anything about all this in time for the World Cup next year?
The All Blacks might have been several notches below their best and Wales might have shown considerable courage. Yet it's hard to argue with a five tries to one score line. Fact is, Wales's players are just not used to playing with the same intensity, precision of execution and powerful physicality that the New Zealanders bring to all their games.
It is even tougher to dispute the Wallabies' whopping 59-16 annihilation of the French on a bitter night in Paris. The French simply do not know how to play this new, attacking game. The country whose rugby men once gave the world such pleasure with their ball handling skills, invention and intelligence, now have only physical might to offer.
Robbie Deans' men danced a jig of delight in and around the French. Drew Mitchell's second half hat-trick of tries, achieved in just nine minutes, impaled the French on their own sword.
All the Australians did was search for space and show the wit and invention to exploit it. They did the basics, made the ball do the work and drew defenders before freeing those around them. By contrast, the passing of the French players was technically inept. Often, passes were hurled behind colleagues, forcing them to delay their advancing run and losing momentum in the movement.
But it has come to something when French rugby players cannot even pass properly. And they appear to have no-one capable of showing unpredictability or the unexpected. Thank former coach Bernard Laporte for that; he coached it out of them.
To see France being booed off the Stade de France after an abject, sterile performance was to wonder where northern hemisphere rugby is going. And this was the nation that won the 6 Nations Grand Slam last March. How devalued a gong that has become.
England enjoyed one purple patch, their victory over the Wallabies two weeks ago. But if they thought a renaissance was imminent they must think again after the defeat by the Springboks at Twickenham. Suddenly, the South African forwards looked once more a tremendous unit. Add the brilliant Fourie du Preez at half back when he returns next year and the Springboks must be one of the very few sides in the frame to win the World Cup.
Whether the Australians can do so without a scrum, is a moot point. Again in Paris, they were woefully exposed in that department, conceding a first half penalty try for three scrum collapses. Things improved somewhat thereafter with Benn Robinson's arrival at loose head and James Slipper's switch to tight head in place of the embarrassed Ben Alexander.
But the Wallabies have had this weakness for seven years now. How on earth can it have been allowed to go on so long and still remain their Achilles heel?
Not that the northern hemisphere can gloat. Italy kicked eight penalty goals to beat Fiji 24-16 on Saturday and the Scots scored just a solitary try in their 19-16 win over Samoa in Edinburgh.
The harsh fact is, the northern hemisphere nations remain a long way short of the standards being set on the world stage, principally by the All Blacks.
- NZ Herald