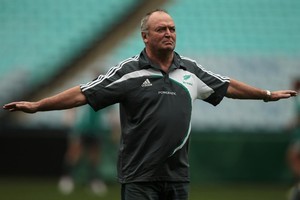 Let's face it. The All Blacks' schedule next year is ridiculous.
It has been aggravated by the impending birth of the Super 15, a tournament which expands the schedule for each franchise to a possible 19 games from mid-February to a July 9 conclusion.
Those chosen for the All Blacks will have a three-week break before they begin a four-test Tri-Nations series then a fortnight's interval until the start of the Rugby World Cup.
It is a heavy programme, rugby overload, and little wonder the All Black coaches have been wooing the Super rugby coaches at this week's meetings to get some agreement about sparing the top players.
Not the indecent rest-and-reconditioning programme used in 2007 when Graham Henry and Co pulled 22 of the leading players out of the first half of the Super series, but some sort of compromise respite.
Some All Blacks might start the Super 15 a shade late after their end-of-year tour, but each squad should have cover.
The cotton wool protection given to prospective All Blacks in 2007 was a blight on the competition and an impediment to the performance of many. If we have to endure the Super 15, then a measured schedule for prospective All Blacks makes sense in a World Cup season.
Henry mentioned some of his broad ideas to the Herald this month when asked about the bloated itinerary.
Fixture lists showed teams who made it to the Super 15 title decider could play eight games in New Zealand, eight in Australia and South Africa and three finals matches. Sides would have two byes.
Squads will be bumped up to 32 players and Henry thought those groups and coaches needed to make sensible selection choices and use that extended roster if they wanted to develop some consistent standards.
He saw a logical starting plan for prospective All Blacks to link a rest with their side's byes, meaning they could get right away from rugby for several decent breaks in the tournament.
"If they are out, we think they should be right out. We think that's the biggest challenge to refresh mentally," he said. "That will be the challenge for them because they will want to be with the squad, so there will be a bit of education required."
If that's the rough outline of the deal, you'd figure there would be widespread acceptance.
South African sports scientist Tim Noakes has advocated a "less-is-best" schedule for most of the prospective Springboks while All Black doctor Deb Robinson would also like a reduced schedule for her charges.
It would be best if New Zealand sides were at full strength when they pitched themselves against each other so the crowds could get decent value while the All Black selectors could compare the best rugby flesh in the country.
For the rest of the games in South Africa and Australia, it might be a case of mix 'n' match and judicious use of the substitutes bench.